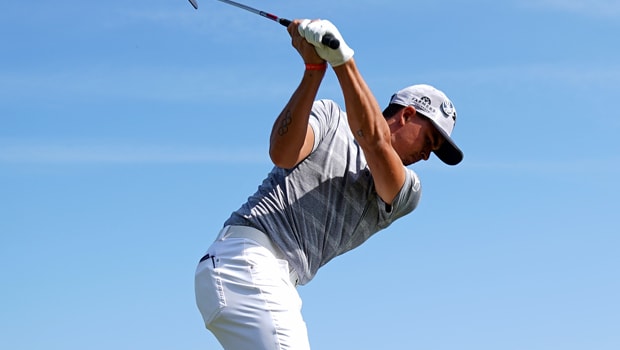 Rickie Fowler shot a first-round 65 at the PGA Championship in Missouri and vowed to stay patient this week as he seeks to end his wait for a Major championship.
Fowler, 29, is among the leading contenders in the 'best player without a Major' category having compiled eight top-five finishes from 35 majors without a win so far in his career.
Runner-up behind Patrick Reed at Augusta in the Masters this season, Fowler has also been second at the US Open and the Open Championship already, and third in the PGA Championship – part of a 2014 season where he finished in the top-five of all four Majors.
His five-under par 65 was good enough to sit second alone just one shot behind Gary Woodland, who overhauled him late in round one.
Fowler is happy with his start, the first knockings in a four-day playbook that he hopes will lead him to the Promised Land.
"You can't force the issue and it relates to some of our game plan and how we're going about this week as far as just trying to play within ourselves and not do anything extra special," Fowler said.
"I don't have to play special to win. Like I said, wear out fairway, wear out greens, and keep it as stress free as possible and keep picking apart this golf course.
"It sounds clichéd, hole by hole, shot by shot, but Thursday you can check the success box and move on to Friday."
Fowler's friend and multiple Major winner Phil Mickelson needed 47 attempts before getting his maiden success and that is something that ensures the former won't be getting too worried.
"I always have hope. I know Phil (Mickelson) didn't win until his 30s," Fowler added.
"I don't know the exact numbers, but it's not something I necessarily worry about. Keep putting ourselves in position, get in contention, we have had plenty of runners-up, Jack (Nicklaus) had a lot of runners-up, we'll just keep beating down that door."
Fowler is 7.00 to win the PGA Championship this week. First-round leader Woodland is 15.00.
Other notables on the leaderboard include Zach Johnson at four-under par, Dustin Johnson and Jason Day (both three-under par) and Hideki Matsuyama, Jon Rahm and Patrick Reed (all two-under par).
Leave a comment