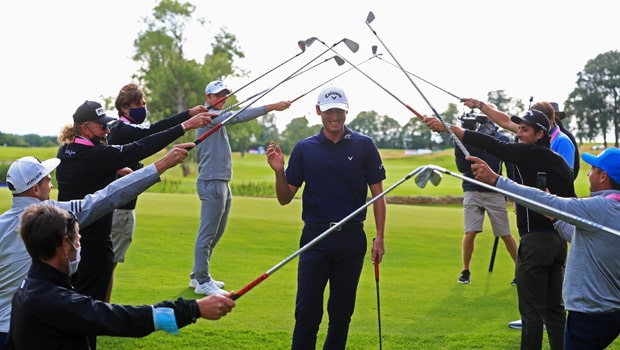 23-year-old Italian, Renato Paratore won the British Masters on Saturday after finishing 2-under-69 for 18 under. This is his second European Tour title, his first in three years. He finished three shots ahead of Rasmus Hojgaard. He played a very good game all through the tournament and would have completed it without any bogeys until the final day. But he was able to recover from it and go ahead to win the tournament.
Paratore began his Saturday's game with a one-shot lead from the previous night. A couple of birdies at the fourth and seventh hole saw him draw closer to the title. But mistakes started to happen at the ninth hole, which was a par-three hole. He made up for it with a birdie at the tenth hole but was equally not lucky in the eleventh hole as he made another bogey. By then, Hogjaard was on a steady chase, waiting to get ahead of Paratore, until he made his second bogey at the 15th hole. Paratore made a birdie at the 17th hole, which further strengthened his lead. When he got to the last hole, he used a shot to seal his victory.
Speaking after the game, Paratore, who received a warm guard of honour by some of the players, expressed his delight at winning the tournament and also laid down his plans to get a spot in the US Open. He said, "I am really happy. It was a little bit strange but fortunately there was some crowd at the end. I did not expect that from my friends on the Tour and it was a really good situation. I plan to play the next five events and I said to my team the goal was definitely to get one of the 10 places in the US Open that are available (from a mini order of merit)."
Host of the event, Lee Westwood finished at 7th place. The 47-year-old admitted that he did not feel comfortable throughout the duration of the tournament as a result of the virus. No fans were allowed on the course, and everyone who took part in the tournament were quarantined together in a hotel near the course. The tournament also raised money for the local community with sponsors raising an additional £50,000 in addition to the £100,000 already raised.
Leave a comment