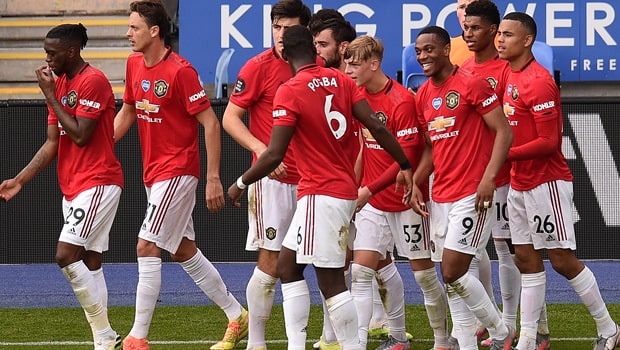 Manchester United will play in the 2020/2021 UEFA Champions League campaign after beating Leicester City 2-0 on the final day of the English Premier League this season.
Manchester United needed to avoid defeat to be sure of their place in the UEFA Champions League's group stages and with an eye on the results coming in from the Stamford Bridge as Chelsea played Wolves.
Leicester City, themselves being the host to Manchester United, needed a victory to be assured of a place in the UEFA Champions League as well, making the tie a tricky one for Ole Gunnar Solskajer side.
However, after a goalless first half, the Red Devils took the lead with 20 minutes left to play as Bruno Fernandes scored Manchester United's 14th penalty awarded to them this season.
The penalty made it the most ever awarded to any team in a single season in the English Premier League season. Jesse Lingard managed to score for the first time this season with a late goal courtesy of a howler by Leicester City's goalkeeper Kasper Schmeichel who committed a mistake as the Red Devils won 2-0.
Irrespective of Leicester City's loss, Jamie Vardy finished the season as the League's highest goal scorer with 23 goals edging out Danny Ings and Arsenal Pierre-Emerick Aubameyang.
Meanwhile, the result from London was inconsequential even though Chelsea beat Wolves 2-0 to secure their UEFA Champions League place.
In other results, Arsenal rounded off their season with a 3-2 victory over Watford at the Emirates, Pierre-Emerick Aubameyang scored twice, one on either side of Kieran Tierney's strike, in the first half.
Skipper Troy Deeney scored a penalty just before half time to give Watford the hope of getting a result that may keep them up but even Dany Welbeck's second-half goal was more or less a consolation as Aston Villa drew 1-1 at West Ham.
Leave a comment