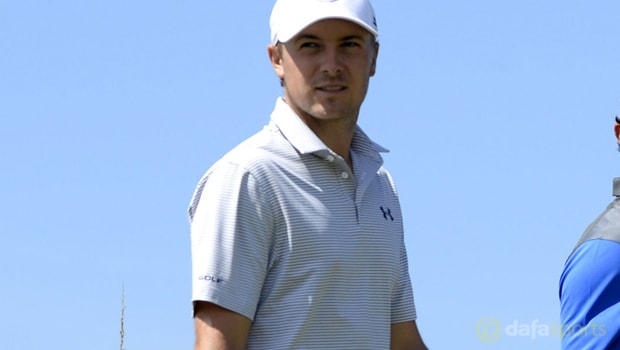 Jordan Spieth has vowed not to "take his foot off the gas" at the Tour Championship in Atlanta as he bids to win the FedEx Cup for the second time in his career.
The American goes into the season-ending Tour Championship at East Lake as the FedEx Cup leader and knowing he'll pocket the $10million bonus prize if he wins the elite 30-man event.
Spieth, along with fellow top-five FedEx players Justin Thomas, Dustin Johnston, Marc Leishman and Jon Rahm, knows that a win in the Tour Championship guarantees the bonus payout.
The Open champion can also win the FedEx Cup with a high finish in Atlanta, assuming those four rivals do not win the tournament.
However, the 23-year-old Texas says he has no desire to allow his FedEx Cup fate to rest on the shoulders of others this week.
"If you start playing for position that's when you take your foot off the gas pedal a little bit, and that's not how we normally play," Spieth said at his pre-tournament press conference.
"I'm comfortable at East Lake and I'm in a great position."
Spieth was runner-up in each of the first two FedEx Cup play-off events before finishing 10 shots behind runaway champion Leishman at last week's BMW Championship.
He finished at Conway Farms with a round of 65 and says that has put him in the correct frame of mind for Atlanta, especially as it ensured he stayed on top of the FedEx standings.
"I was pumped to have the round I did on Sunday, to gain some momentum, to maintain the number one spot," he added.
"I was a little bit off at the start of the week in my striking. But I feel pretty close right now to where I was in the first two play-off events.
Things feel good. If this were a major championship I'd be pretty pleased with how things are feeling."
Spieth is 4.75 to win the Tour Championship while US PGA champion Thomas is 13.00, with world number one Johnson 9.00.
Leave a comment