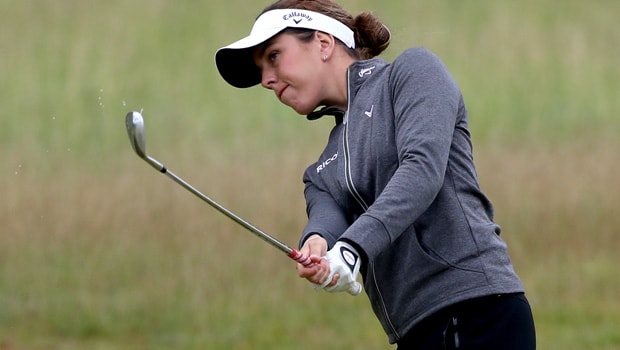 English golfer, Georgia Hall is leading with a one-shot lead after the first round of the inaugural Saudi Ladies International.
The 24-year-old topped the table with a seven-under-par 65 at the Royal Greens Golf Club. Behind her is Wales' Lydia Hall, with a stroke less.
Meanwhile, Ursula Wikstrom of Finland and Emily Pedersen of Denmark share the third spot with five-under.
Speaking on her performance after the opening round, Hall, who was pleased with her game on Thursday said she took advantage of the morning tee time.
While noting that the weather was pretty windy on the back-nine, the 24-year old expressed excitement with her output and score, which was a women's course record.
Not relenting on her effort, the English golfer said she remained very focused this week, noting that day one success may is a good start she wanted, but she will return to the range and prepare for Friday action.
Hall got into the top after starting on the 10th to hit three consecutive birdies with a further three after opening with a nine.
She continued from where she stopped with another birdie and eight pars, which moved her to a bogey-free 65 – a women's course record.
This is the first time Saudi Arabia will be hosting its first professional tournaments for women. The Arab country is doing this to improve its sporting nature in line with the human rights organisation's criticisms of some of its laws.
A team event is expected to follow the Saudi Ladies International, having hosted a world boxing match between Anthony Joshua and Andy Ruiz where the Nigerian-born British boxer regained his WBC, WBA, and WBO titles.
It could be recalled that the tournament was initially scheduled for March this year, but had to be postponed due to the COVID-19 pandemic, which forced many countries into lockdown. It is now being played in a bio-secure bubble to avoid further spike of the dreaded virus.
The winner goes home with $1m (£750,000).
Leave a comment