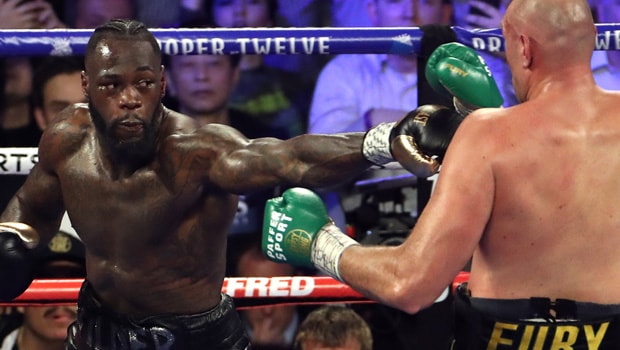 In the past few months, WBC Heavyweight champion Tyson Fury has stated that he would not be holding a third fight with Deontay Wilder, but would instead face another opponent in December, the month of their proposed fight. Fury's reasons have been that Wilder's camp had tried to move the date to 2021 and he was not going to settle for that.
Now, it is Wilder's turn to do the talking and he has called for Fury to honour their fight agreement and meet up one more time. His statement came after Fury's words in an interview on Monday; "He will never get a shot at me now. Finished. For what he has said. Losing is one thing. I don't even want to give him any air time. That's it for him." Fury was referencing an accusation from Wilder's camp that he, Fury, put something in his gloves when they fought in February.
Wilder took to Twitter on Thursday to call Fury out, demanding for the third fight; Hey @Tyson Fury, Don't worry about me I am Fine, Blessed. The only thing I want from you is for you to honor your agreement and fight me. I gave you 2 shots when I didn't have to and it changed your life. Now it is time for you to be a man and give me my shot as you agreed to." Before that, Wilder had also posted something similar; "In the rematch agreement, there was a rematch clause. Now it is time for you to be a man and honour your word, instead of trying to weasel out of our agreement. Scared people run but a scary man will break his contract."
Wilder lost his WBC belt to Fury in February after they met a second time. The first time they met, back in 2018, the match ended in a draw. But, contrary to Wilder's claims, he was not mandated to face Fury again. However, this third fight is mandatory and Wilder's camp has taken the matter to a mediator to see what can be done about the contract and if a third fight would hold as agreed.
Leave a comment