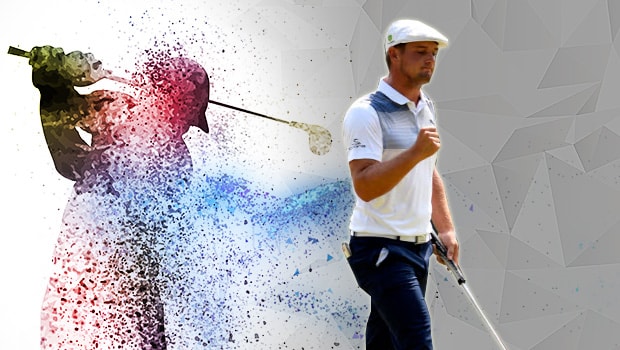 Bryson De Chambeau believes the summer setbacks he has overcome are helping him to become a better player following his Northern Trust Open win.
The American won the first of the PGA Tour's FedEx Cup playoff events with some style in New Jersey, coming home with four shots to spare on the field.
It was his third Tour success stateside and second this season following the Memorial Tournament win at Muirfield Village. De Chambeau hasn't been without his troubles recently, however.
He led the European Open by a shot with four holes to play but his swing deserted him and he dropped five strokes in the closing holes.
His unorthodox approach to golf – he plays with clubs that are all the same length and applies science to his putting stroke – ensures De Chambeau gets plenty of attention.
Last month De Chambeau was captured by cameras during one of his usual lengthy range sessions after his first round at The Open Championship in Scotland.
The fixes were not working and he duly tossed a club away in frustration before slumping down with head in hands.
It was a moment of weakness, but one he has quickly moved on from to win amongst the world's best.
"Crazy is a relative term," he suggested.
"Everybody is unique in their own way and some people work harder for longer hours than others. You can say what I do is crazy, but at the end of the day, I'm the one with the trophy this week."
The Carnoustie meltdown and his European Open blow-up are moments the likable De Chambeau feels he has already taken lessons from.
He said: "That struggle is what led me to this point. That's the thing that people sometimes miss is the fact that those moments…when you're at your – relatively speaking – lowest, are the times when you can learn the most.
"Even though I have hiccups every once in a while, those are great experiences I can learn from."
De Chambeau is 23.00 to lead the PGA Tour World Money List at the end of the 2018 season next month.
Leave a comment