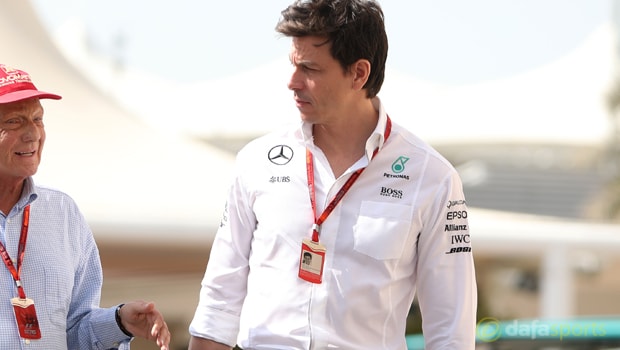 Mercedes Head of Motorsport Toto Wolff admits he should have 'communicated differently' during last month's crucial Abu Dhabi Grand Prix.
The race at Yas Marina Circuit was a straight battle between Mercedes duo Lewis Hamilton and Nico Rosberg to claim world championship glory and although the British driver won the race, it was the German who was able to claim his maiden world title by securing a second-place finish.
Hamilton, who led from the front in Abu Dhabi, attempted to slow the pace of the race during the latter stages, in a bid to put pressure on Rosberg, something that displeased Wolff, who admitted at the time he would not tolerate one of his drivers disobeying team orders.
The 44-year-old admits he now regrets taking that tone, as he believes he should have appreciated what was at stake for the two drivers involved.
"In the heat of the moment, sometimes when you make decisions you get them wrong," Wolff told Sky Sports F1.
"In our mind, the way we think, this race is giving us the same number of points as other races and we try to win that one, not considering that there was much more at stake for the drivers.
"How the race panned out, we should have communicated differently and in hindsight let them race in the way they deemed to be appropriate."
Rosberg has since retired from the sport, bringing his sometimes tense rivalry with Hamilton to an end, and Wolff concedes that driver dynamics will be crucial in Mercedes' selection process to replace the German.
He added: "It's very important to keep him (Hamilton) in a good place. The dynamics between the two drivers is one of the factors we will consider."
Hamilton is available at 2.20 to win the drivers' world title next season, while Mercedes are priced at 1.67 to claim a fourth-straight constructors' championship crown.
Leave a comment