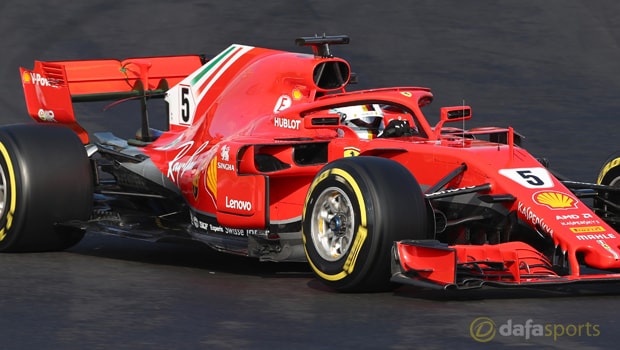 Championship leader Sebastian Vettel says Ferrari are "still looking" for a settled car despite enjoying two positive practice sessions ahead of the China Grand Prix on Friday.
Vettel, who won the opening races in Australia and Bahrain, ended P2 fourth in the standings, having clocked a fastest time of 1:33.590, and there is work to be done ahead of qualifying on Saturday.
Mercedes star Lewis Hamilton was quickest in both P1 and P2, his time of 1:33.482 leading the way, but the second Ferrari of Kimi Raikkonen was following closely behind after clocking 1:33.489.
Valtteri Bottas, in his second season with the Silver Arrows, produced a good performance to finish third fastest and he will be optimistic of taking pole position for Sunday's race at the Shanghai International Circuit.
Despite setting some good lap times on Friday, Vettel says the Maranello-based outfit are yet to hit top form this season and there are still tweaks that need to be made to the car.
"In Australia I struggled, Bahrain I was much happier but here it is not yet where I want to be," he was quoted as saying by Sky Sports.
"We are still looking. If anyone has any clever suggestions they are welcome. It is difficult to find the sweet spot but if you do then you can unleash the pace.
"I think the car has the pace but we need to make sure we get it to work. Today was mixed, in the afternoon I was a bit happier but hopefully tomorrow I am very happy."
Raikkonen also spoke after the first two practice sessions, saying: "We had some traffic and could go faster on one lap. On the long run we never really got a good idea of where we are with the conditions. "We will see what happens tomorrow."
Leave a comment