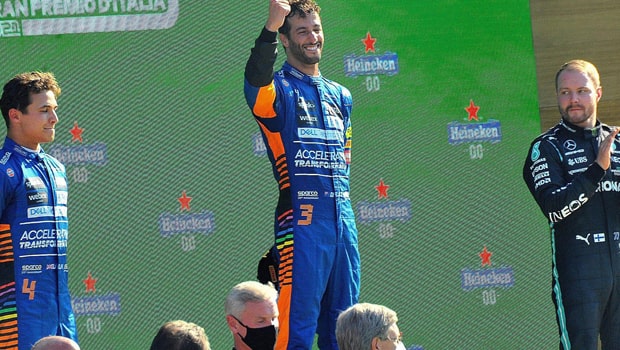 McLaren's Daniel Ricciardo won the Italian Grand Prix to claim his first victory in three years. Ricciardo, who joined McLaren at the start of this season, took advantage of the unfortunate crash involving Max Verstappen and Lewis Hamilton, to advance to the lead, which he maintained till the race finished. Ricciardo's last win was at Monaco in 2018 when he was still with Red Bull. It was a fulfilling race for McLaren as their other driver, Lando Norris, came second, with Mercedes' Valtteri Bottas settling for third place.
Between his last win and now, the 32-year-old driver has been through a lot. During his two-year stint with Renault, after leaving Red Bull, Ricciardo's best finish was third place, which he claimed twice in 2020. Sunday's victory was so good that Ricciardo has admitted he has not had a lot of sleep since then; "It's just kind of the excitement. It's still running through my mind. And I've had an overwhelming amount of love and messages and (contact from) friends back home. It's been quite cool. So it's been hard to switch off. All these things keep me up. There are so many things that happened over the weekend that keep me up."
And one can hardly blame him. Not only is the win a record for him but also a breakthrough for McLaren as it is their first win in nine years. In a season where most of the wins had been shared by two men, it can be quite easy to lose faith over winning a race, but that was not the case with Ricciardo. He admitted that the season has been the most challenging yet and the win was very phenomenal for him, as he never lost faith, despite how tough the season was.
But Ricciardo is not the only one that believed in himself. McLaren team boss, Andreas Seidl, said that the decision to bring in Ricciardo this season was because they believed in him; "there's a reason why we wanted to get him on board – because he's a proven racer and he's one of the best in our sport. It's great to see after the break that it's coming."
Leave a comment