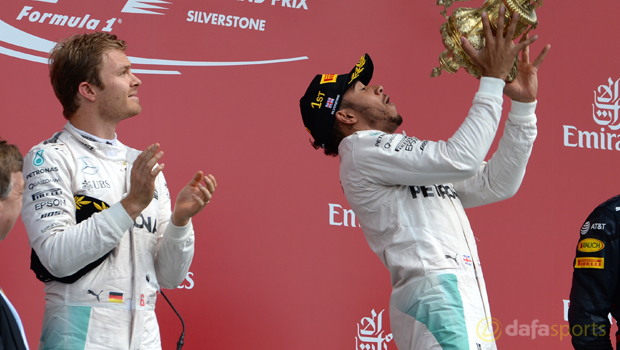 Nico Rosberg says the current 'wave' of success enjoyed by Mercedes team-mate Lewis Hamilton could be ready to come to an end.
The German driver currently leads the world champion by a solitary point in what has turned into a fascinating duel for the drivers' title.
While Rosberg revealed he has the greatest of respect for Hamilton, he admits that their current plight makes it impossible for them to be friends.
The Mercedes drivers find themselves on the brink of being issued with team orders after two more high profile crashes this season.
"He's one of those opponents where you get the greatest satisfaction from beating him because he's world champion," Rosberg told The Guardian.
"I have huge respect for him but, well, we're not best friends at the moment.
That's the difficulty between us now. We're just both so competitive and that makes it difficult to be friends because the competition is so extreme."
Hamilton won this third drivers' title last season but it was Rosberg who ended the campaign on a high note. All in all, he won seven straight grand prix to end last season and begin this one.
At one point, he led his teammate by 40 points in the drivers' championship but that lead has been whittled down to one point.
Hamilton made it back-to-back race wins at Silverstone in the British Grand Prix, where Rosberg was demoted to third despite finishing second. Rosberg is hoping that the momentum will shift in his favour once more. "Momentum does play a role.
We've seen it with Lewis and I from 2014. We've always gone in waves. It's strange but it must be time for his wave to be ending now," he added.
Rosberg is 3.30 to win the drivers' championship, while is 3.75 to win the upcoming Hungarian Grand Prix.
Leave a comment