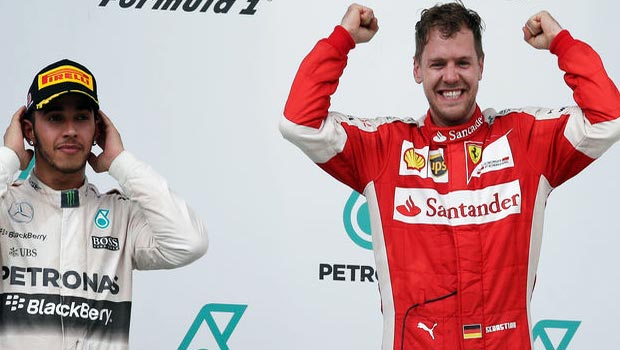 Lewis Hamilton admits Mercedes were surprised by how quick Ferrari's Sebastian Vettel was during his victorious Malaysian Grand Prix.
Hamilton had looked on course to make it two wins from two starts in the 2015 season when he took pole position for Sunday's race, but was shocked by Vettel who finished 8.569secs quicker than the reigning champion.
The four-time champion's win earned him a first triumph since Brazil in 2013 and ended a 34-race drought for Ferrari, who had not won a Grand Prix since Spain two years ago.
It also sent out a clear warning message to Mercedes, whose dominance of Formula One may now be under threat after more than a year as the leading constructor.
Hamilton, who complained to his team over the radio about his tyres, admits Ferrari have improved even more than he and his team thought.
"Huge congratulations to Ferrari and Sebastian – I gave it everything I could but their pace was excellent," he said. "We knew that Ferrari had made a step but didn't know how big – they were too quick today."
Fellow Mercedes driver Nico Rosberg finished third and admitted it was "game on" with Vettel for the world championship, with the former Red Bull man admitting his new car is well suited to his style.
"Last year was not a good year for me, it was a great car but I struggled to extract performance from it. This car suits me very well," said the German.
"It was a big change last year but the team welcomed me from the very first day. When the gate opened at Maranello it was like a dream come true.
The last time I was there I watched Michael Schumacher over the fence and now I'm driving that red car."
Leave a comment