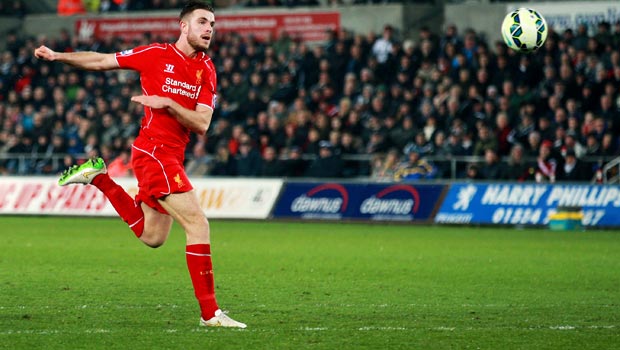 Liverpool midfielder Jordan Henderson hopes to put an end to his contract situation by signing a new long-term deal with the club.
The England international is out of contract at the end of next season, but talks are believed to be ongoing between his representatives and Liverpool officials.
Henderson has become a key player for Brendan Rodgers' side this season and is viewed by many as the natural heir to Steven Gerrard's captaincy when the skipper joins LA Galaxy at the end of the season.
The 24-year-old has no intention of leaving the club and is confident he will sign a new deal with the Reds in the near future.
"I love playing football for Liverpool and I want to be there for many years," said Henderson.
"In terms of my contract, I think everybody else will make a big deal of it but for me, it's just letting my agent and the club deal with it and whenever it gets sorted, it gets sorted. All I want to do is my best for club and country."
Henderson was part of the Liverpool side that came close to challenging for the Premier League title last season.
They are still in this year's FA Cup and, after a poor start to the Premier League campaign, have closed the gap between themselves and the top four to just five points with eight games remaining.
"At Liverpool, we've got fantastic players, real quality players and a lot of potential," added Henderson.
"We're a young team and I think there is great potential and a big part of us is wanting to be winners and winning trophies. I really feel we can do that."
Liverpool – who face Blackburn Rovers in a quarter-final replay at Ewood Park on April 8 – are priced at 2.70 to win the FA Cup this season.
Leave a comment