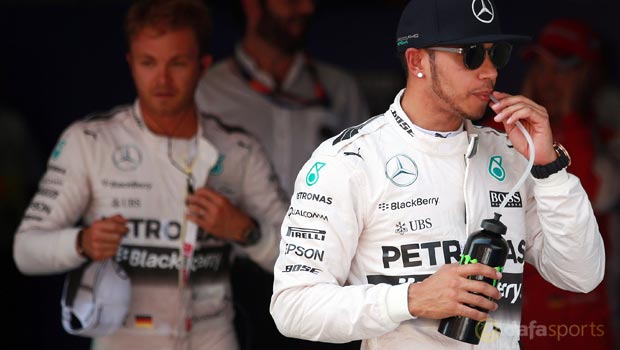 Lewis Hamilton is welcoming the challenge of his Mercedes teammate Nico Rosberg in the Drivers' Championship after the German got his first win of the season in Spain.
Hamilton had threatened to turn the championship into a procession as he won three of the opening four races on the calendar.
Rosberg claimed pole position for the first time this season in Barcelona and from there he was able to win the race with plenty in hand over his teammate.
Despite simmering tension between the pair resurfacing this season, Hamilton has welcomed the renewed challenge of Rosberg.
"Naturally l want him to be at his best," Hamilton told Sky Sports.
"I'm really happy. Yesterday's race was really strong for me.
"He was strong last year in Barcelona, but l think l potentially had a match for him in the race which l didn't last year so that is a positive to take."
The teams move on to the famous streets of Monaco for the next race of the season and Hamilton is out to stop his Mercedes teammate winning the race for the third time in a row.
Hamilton refuted any suggestion that his globe-trotting schedule could impact on his hopes of retaining the championship for the first time in his career. He says his primary focus is on driving with other commitments taking a back seat.
"l want to win the championship and l won't be taking any risks in that regard. My schedule is quite relaxed – I did the race yesterday and l feel fine today," he added.
Hamilton remains a strong 1.19 favourite to be world champion this season, with Rosberg on offer at 5.50.
Leave a comment