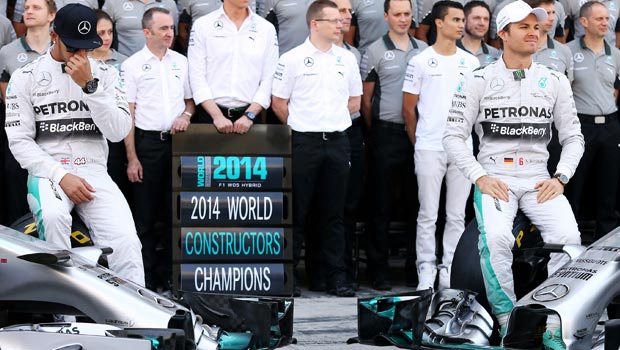 Mercedes' Nico Rosberg is adamant that he will keep up the pressure on Lewis Hamilton right until the last lap when he tries to win the Drivers' Championship on Sunday.
Rosberg took pole on Saturday in the Abu Dhabi Grand Prix ahead of his teammate Hamilton who will start Sunday's race in second on the grid.
The final race of the season will see the double points rule come into play and Rosberg can win the title if he wins the race and Hamilton finishes lower than second.
Valtteri Bottas and Felipe Massa will start the race in third and fourth and Rosberg will be hoping the Williams duo can attack Hamilton when the lights go out.
The Brit had showed early pace in practice on Friday but Rosberg kept his cool under pressure during Saturday's qualifying session.
Hamilton made a number of errors during Q3 but he still managed to do enough to finish on the front row.
Ahead of Sunday's race, Rosberg admitted that he needs the Williams pair to deliver while he wants to see if Hamilton can stand up to the pressure.
He told Sky Sports F1: "I need to keep the pressure up and the performance level as high as possible to try and make Lewis make some mistakes – that's the only opportunity l have. It's been working out lately, he spun out in Brazil and today in qualifying we saw a few bits and pieces not going his way.
"The Williams is the best chance l have. It's very difficult to overtake at this track and if Bottas can get in front at the start then that would be a great chance."
Hamilton is 1.23 to win his second Drivers' title in Abu Dhabi, while the Field, including Rosberg, are 4.22 to deny the Brit the championship.
Leave a comment