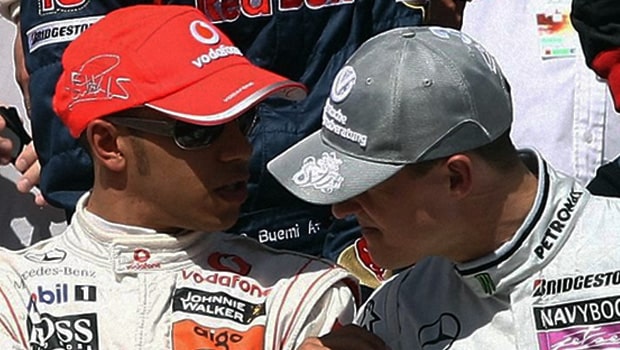 Lewis Hamilton won his 92nd Formula 1 race last Sunday, breaking Michael Schumacher's all-time record.
"NINETY TWO WINS ? Today is beyond my wildest dreams. I couldn't be here today without my team, continuously innovating and pushing the barrier in this game. I'm so grateful to have you guys by my side through this journey… 
It's been such a privilege to work with you all. I'm thinking of Michael today, I will forever have the utmost admiration and respect for you, it's truly been an honour to be mentioned in the same sentence as you… 
And to you #TeamLH, I can't express how grateful I am for all of you. All I can say is thank you, from the bottom of my heart for always believing in me. Still We Rise ? #92," Hamilton tweeted after dominating the Portuguese Grand Prix.
Hamilton tied Michael Schumacher's all-time wins record in Formula 1 with 91 with his win at the Eifel Grand Prix in Germany.
Schumacher's record felt unbeatable because at one point he was 40 wins ahead of the next closest driver. Mick Schumacher presented Lewis Hamilton with one of his dad's race helmets to commemorate his 91st win. This is what Hamilton said when asked what the gesture and the record meant to him:
"I don't even know what to say. When you grow up watching someone, generally idolized them, in terms of the quality of driver they are but also what they're able to continuously do year on year, race on race, week on week, with their team. 
I don't think anyone, especially me, thought I'd be anywhere near Michael in terms of records. It's an incredible honor and it's going to take some time to get used to. Honestly, as I came into the pit lane that's only when I realized, I hadn't even computed it when I crossed the line. I couldn't have done it without this incredible team pushing behind me and giving it their everything. A very big thank you and a huge respect to Michael."
Most of Hamilton's 92 wins came in the "Hybrid Era" of Formula 1… when Mercedes really shined and became the dominant team and Hamilton was the beneficiary.
Since 2014, Hamilton won 69 of 127 possible starts during. To put this in perspective, Sebastian Vettel is third on the wins list with 53 wins in 13 years. Hamilton has 69 in six years. Hamilton can match Michael Schumacher's record of seven Formula 1 World Championships later this year.
Leave a comment