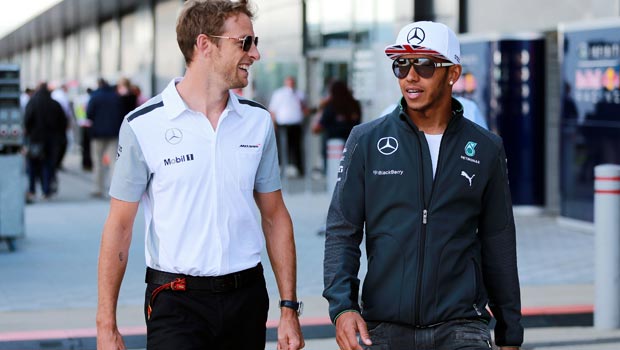 Jenson Button has sympathised with former team-mate Lewis Hamilton after his collision with team-mate Nico Rosberg in the Belgium Grand Prix on Sunday.
The tension has been rising between the Mercedes duo all season with both drivers vying for the championship title, and events came to a head once again at the Spa-Francorchamps.
Hamilton overtook pole-sitter Rosberg at the start of the race as the Brit began in lightening quick fashion, with his team-mate struggling to match the pace.
The German, who leads the drivers' championship, then collided with Hamilton on the second lap in Belgium and subsequently caused a puncture in the rear tyre.
Hamilton's race was effectively ended as he dropped to the back of the field and the Mercedes ace eventually retired towards the latter stages of the contest.
Rosberg was able to recover from the slight damage to the front of his car and finished in second place behind the Red Bull of Daniel Ricciardo – his second consecutive victory.
There has been a mighty fall-out from the Grand Prix after Hamilton said that his German rival admitted to deliberately hitting him, allegations that could have serious consequences for the championship leader.
Button, who used to race with the 2008 world champion at McLaren, has provided his support after the altercation in Belgium.
He said: "I feel for Lewis, it's a shame it's not a cleaner fight. Any driver would look at it now, and I am sure Nico will look at it and say, 'I don't know what was I thinking'."
The racing action heads to Italy next where Hamilton, who is 2.30 to win the championship, will be hoping to claw back the advantage from 1.61 favourite Rosberg.
Leave a comment