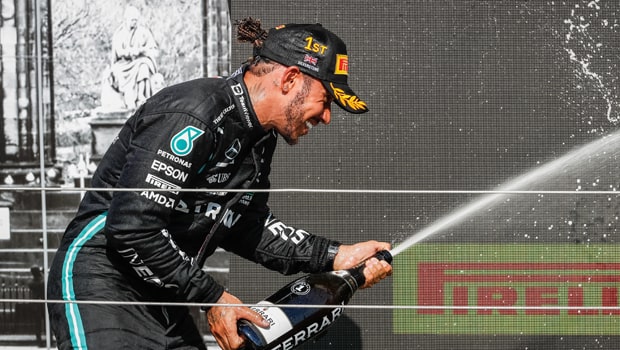 Lewis Hamilton raced to victory at the Silverstone Circuit to win the British Grand Prix, for the eighth time. But the win did not come without some drama.
Early in the race, Hamilton and Max Verstappen were involved in some early rivalry which resulted in a collision, sending Verstappen's car crashing to the fence. Verstappen had to retire from the race and was rushed to the hospital. Hamilton received a 10-second penalty due to the crash, but that did not stop his win from seeming controversial. Charles Leclerc finished second as he lost the lead with just two laps to go. Valtteri Bottas came third, putting both Mercedes drivers on the podium.
The race started like any recent races have been starting, with Verstappen at pole position, followed by Hamilton. Both drivers zoomed off after the start with Verstappen leading the pack. Hamilton tried to overtake Verstappen with every corner but the Red Bull driver was always quick to regain his lead. But just as they were getting around a bend there in the first lap, both drivers had a slight collision that led to Verstappen's crash. The race had to be paused and Hamilton was handed a 10-second penalty. After Verstappen's crash, Leclerc was the one with the lead and he tried to maintain it till the end, but with just two laps to go, Hamilton was able to overtake the Ferrari driver and breezed to the end as the winner.
This is Hamilton's first win since the Spanish GP back in May. With today's victory, Hamilton is one win shy away from 100 career wins. But all of that mattered less at the end of the race as his win seemed to divide opinion. Even Verstappen gave a comment from the hospital, describing Hamilton's move as "dangerous" and also expressing his disappointment with leaving the race early. He also said, "watching the celebrations after the race while in the hospital is disrespectful and unsportsmanlike behaviour but we move on". Red Bull's team boss, Christian Horner said that today's incident would "add fire to our championship fight," while Mercedes' Toto Wolff said what happened today had occurred in other past rivalries, adding that the most important thing was that Verstappen was fine.
Although Red Bull still leads both the drivers' standings and the constructor's championship, Mercedes has managed to lessen the gap between them, and a win in the next race could see Mercedes lead both leaderboards again.
Leave a comment