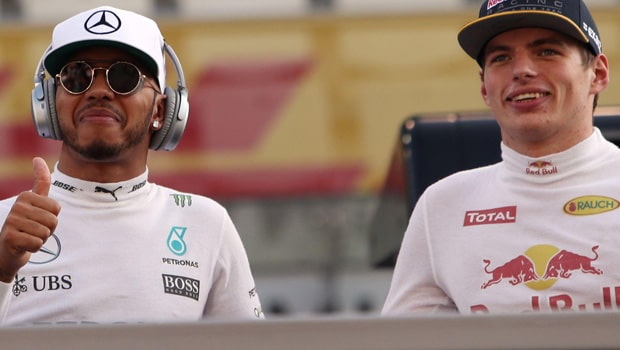 Seven-time world champion, Sir Lewis Hamilton, has expressed his excitement at competing with Red Bull's Max Verstappen this season. Both drivers were steady at each other's end at the Bahrain Grand Prix till Verstappen's team forced him to give up his lead, causing him to finish at second place while Hamilton claimed victory. The action and energy between the two was an interesting way to start the season and it looks like we would get to see a lot more of that.
Speaking on a prospective challenge between the two, Hamilton said that it was something everyone, especially fans, has been looking forward to; "I'm super excited and super happy for the fans, that they are excited. I think it's something that all the fans have wanted for a long time. Of course, this is only one race, so we don't know what the future holds in terms of… with the pace they have, they could be ahead a lot more, but we're going to work as hard as we can to try and stay close in this battle and I hope for many more of these sorts of races with Max"
But Hamilton is not the only one sharing such sentiments as even his team boss, Toto Wolff has said that a rivalry between the two drivers is something he and the fans are looking forward to. Helmut Marko, who is Red Bull's Formula 1 advisor has described both drivers as being in a league of their own following their rivalry at the Bahrain GP; "The race clearly showed that the two are in a class of their own. The thing that Hamilton has over Max is incredible consistency. I don't know how many races he has, how many wins. You could see how he did a great job tactically, how he made line changes, and so on. It was a very difficult race for Max. But again, they are more or less on a par with each other. Max will also be able to draw on a wealth of experience like Hamilton's at some point."
We would just have to wait for other races for the season to see just how well the two drivers are prepared for each other.
Leave a comment