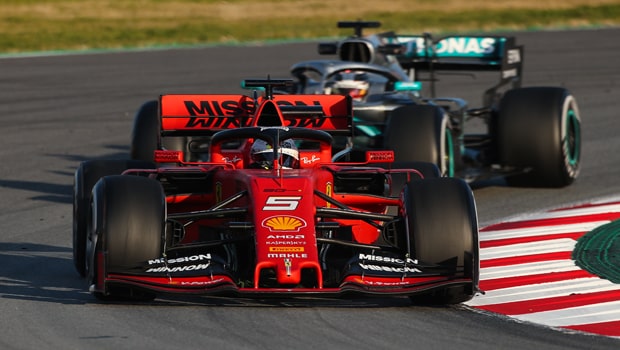 Ferrari's Sebastian Vettel is trying his best to stay optimistic after a slow start to the season and feels upgrades could help the team to compete over the coming weeks.
The Italian outfit were regarded by many as the favourites ahead of the 2019 campaign after impressing during pre-season testing in Barcelona.
But they have been unable to carry that form into the regular season and are yet to claim a chequered flag after four events.
Mercedes duo Valtteri Bottas and Lewis Hamilton boasts two victories each and Vettel is in danger of being cut adrift already.
The German sits on 52 points, 35 shy of Drivers' Championship leader Bottas, and he is yet to finish higher than third.
He had to settle for the final spot on the podium in Azerbaijan on Sunday and he has played down their chances heading into the next race in Barcelona.
"We are not the favourites going to Barcelona," he told the media. "Obviously the last four races on average we were not quite there.
There's still plenty of work for us to do, obviously we were not quite where we want to be. At this point I think we just need to maximise what we can."
Despite failing to match rivals Mercedes, Vettel insists the team are staying positive and he feels they may be able to close the gap when they introduce some upgrades.
He added: "The team is in good spirits. We have another couple of upgrades to get on the car. We need to chase them down.
"We are looking forward hopefully to a smooth weekend. Our first four weekends haven't been that smooth, but it will be crucial to catch them and turn the things around."
Leave a comment