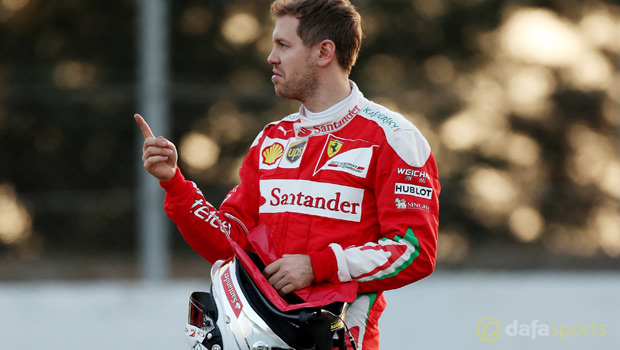 Sebastian Vettel has admitted that Ferrari's early season reliability problems have caught him and the Formula One outfit by surprise.
The Scuderia were backed to push reigning constructor champions Mercedes harder in 2016 after some impressive figures during the pre-season testing.
However, after a turbo failure caused an airbox fire which ended Kimi Raikkonen's involvement at the season-opening Australian Grand Prix, Vettel failed to start the weekend's Bahrain Grand Prix when his car started trailing smoke on the formation lap, seemingly due to a broken valve or injector.
Raikkonen's second-placed finish on Sunday and Vettel's third in Melbourne has ensured Ferrari remain second in the very early standings, but Mercedes are already 50 points ahead of them.
Vettel is at a loss to describe their issues, but the German four-time world champion has dismissed claims the car is struggling because of their desire to try and keep up with the powerful Mercedes car.
When asked if that was the case, he told Sky Sports: "Not really.
"We sorted out our problems over winter and starting the season it was a surprise what happened to Kimi. Sunday was a surprise again so we need to understand what happened and learn."
However, Raikkonen slightly contradicted Vettel by suggesting the pressure they have put on themselves to catch Mercedes is a risk.
He added: "Always pushing the limit sometimes things go wrong. It's not ideal, that's not what we're looking for, but we're pushing where we want to be, in the front."
Vettel is 7.50 to win the world drivers championship, while Raikkonen is 29.00 and Ferrari are 7.50 to win the constructors championship.
Leave a comment