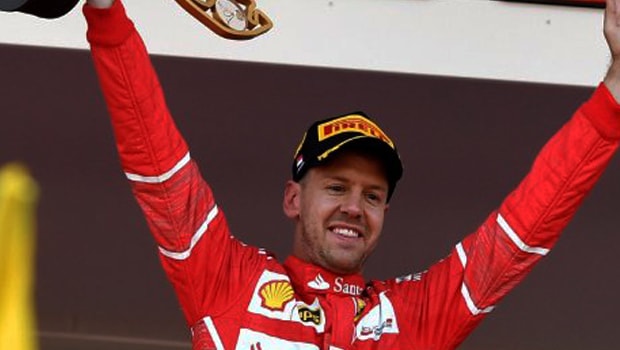 Ferrari enjoyed a one-two in Sunday's Monaco Grand Prix but it did little for team morale – among the team's drivers at least.
Sebastian Vettel grabbed Ferrari's first win on the Monaco streets in 16 years – though only after he overtook team-mate Kimi Raikkonen during their respective pit stops.
Vettel ran for five laps longer than the Finn, and emerged from the pits traffic-free and able to set some blistering lap times on his fresh tyres.
Raikkonen meanwhile struggled to warm up his tyres and then hit traffic, effectively handing the win to Vettel.
The four-time world champion was attempting to play down the pit-stop strategy afterwards.
"I tried to push as hard as possible and I was surprised to come out in front," admitted Vettel.
"I can understand Kimi's upset. There was no plan of any team orders or anything."
For his part, Raikkonen was stoical on the podium afterwards, avoiding eye contract with his team-mate and he suggested later in the press conference that he felt wronged in the race.
"It's still second place but it doesn't feel awfully good," said Raikkonen. "It's one of those days where you wish you'd led a bit more."
Vettel meanwhile increased his hopes of a first drivers' crown since 2013 as he extended his lead of the 2017 F1 drivers' title race to 25 points with victory in the principality.
Vettel's closest title rival Lewis Hamilton finished a distant seventh on a torrid weekend for Mercedes and the British driver admitted the car had not performed in Monaco.
"I came in this morning feeling terrible and didn't sleep well last night," Hamilton told Sky Sports.
"The car was very difficult to drive this weekend." Vettel is now 1.67 to win the drivers' title with Hamilton 2.25.
Leave a comment