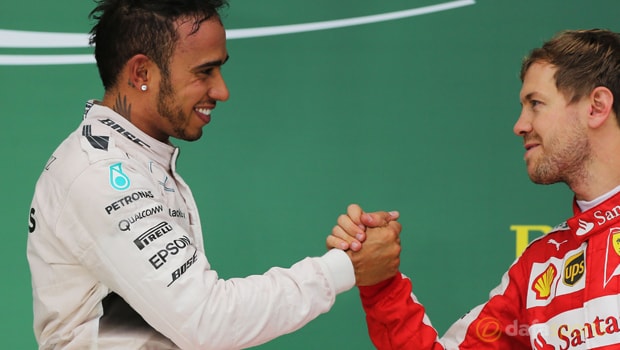 Lewis Hamilton believes his scrap with Sebastian Vettel in Sunday's Spanish GP is exactly the type of spectacle Formula One needs on a regular basis.
After starting the day on pole, Mercedes star Hamilton lost out to Ferrari's Vettel in the early part of the race but came back to take the chequered flag for the second time this year and bounce back from his disappointing race in Russia.
The German had to settle for runners-up spot and the gap between them in the Drivers' Championship is now down to six points heading into the next race in Monaco.
With world champion Nico Rosberg retiring late last year, Hamilton can now focus on battling his rivals rather than those within his team and the fresh start seems to have helped him rediscover his enthusiasm.
A third career victory in the principality on May 28 would see him go top of the standings but regardless of the result, the fight between the pair looks set to last for the whole of 2017.
The Brit is 1.70 to win the Drivers' Championship, with Vettel 2.30.
Hamilton admitted he enjoyed the purity of their battle on Sunday and feels that type of ferocity is exactly what the sport needs.
"It's been a really good weekend and a great way to bounce back from Russia," said Hamilton.
"It was the rawest fight that I can remember having in a long-time. I loved it, this is why I race.
"This is what made me get into racing in the first place. This is what the sport needs to be like every single weekend.
To have a close battle like that with a four-time champion is awesome."
Leave a comment