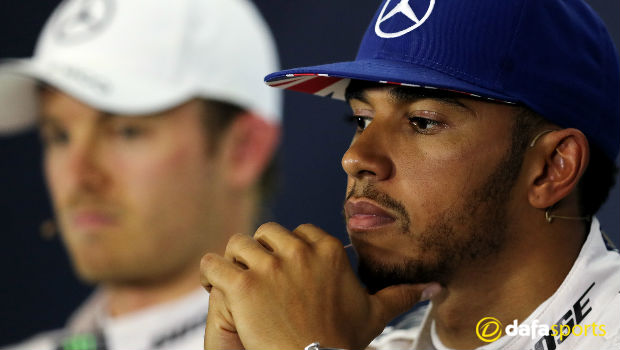 Mercedes star Nico Rosberg says he was extremely surprised to see team-mate Lewis Hamilton finish on the podium in Belgium after the Brit started the race in 21st position.
Hamilton was hit with a number of grid penalties after being forced to make changes to numerous engine parts and was made to start the event at Spa one from the back.
The 31-year-old had built a 19-point lead before the outing in Belgium but many expected a considerable chunk to be taken out of this before Sunday's race.
Rosberg, who is 3.80 to win a maiden Drivers' Championship, started on pole and cruised to a sixth win of the season after managing to avoid the carnage behind him.
Numerous collisions caused mayhem for the rest of the field but Hamilton produced a stunning display to take the final position on the podium.
It was a remarkable performance from the defending world champion and he remains top of the individual standings with a nine-point advantage.
Rosberg was delighted to have triumphed at Spa but admits the third-place finish from his team-mate came as a massive surprise to him.
The German said: "After the chequered flag, I looked at the results and I knew Daniel [Ricciardo] was behind me, and then I see 'HAM' in P3 and I was like 'What? Seriously?'
I didn't know until after the race where he was." Hamilton is the 1.18 favourite to win the title this year and he will be hoping to get back to winning ways when the action heads to Italy this weekend.
The Briton dominated the 2015 edition of the race, qualifying on pole, recording the fastest lap and clinching victory.
Leave a comment