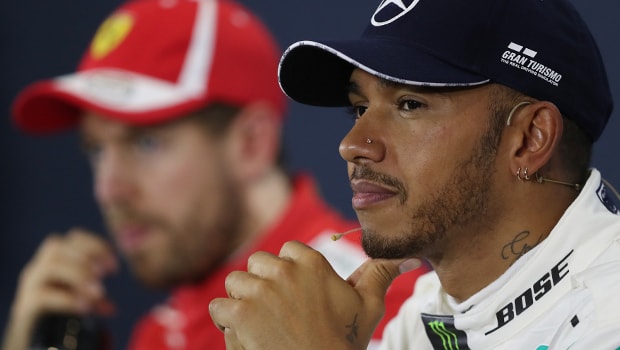 Mercedes' Lewis Hamilton has dismissed Sebastian Vettel's claims that he was at fault for their collision during the first lap of Sunday's Italian Grand Prix.
World championship leader Hamilton started the race third on the grid behind Ferrari duo Vettel and Kimi Raikkonen, but he challenged the former for second place on the very first lap at Monza.
The Brit snuck up the inside of Vettel at the third corner and as he edged ahead of the German the two cars collided, an altercation that sent the Ferrari spinning towards the back of the grid.
Vettel did recover to claim fourth-place, but Hamilton has extended his lead in the Drivers' Championship standings to 30 points after he secured a record-equalling fifth Italian GP success.
Hamilton is priced at 1.50 to successfully defend his world title this season, but he had to defend himself after Sunday's race, as Vettel blamed the 33-year-old for their collision.
"There was plenty of space. I was as far over as l could be. There was definitely a car's width on my left," Hamilton told Sky Sports.
"It was a racing manoeuvre, it's what we're supposed to do out there. We're supposed to be racing.
"I left him space. I'm sure it's a comment that was done in the heat of the moment. And it's never a great feeling when you spin and you're facing the other cars coming the other way.
"I know how it is to be in that emotion. I'm sure he really didn't mean too much by it."
Leave a comment