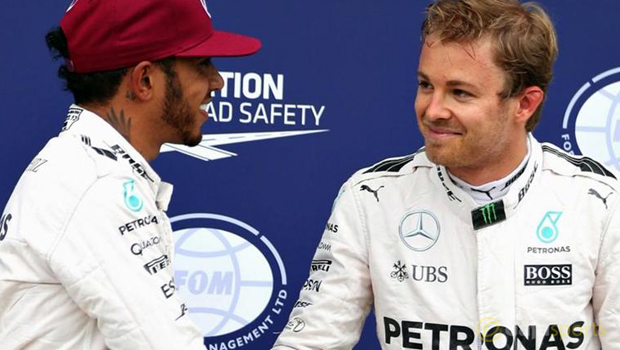 Lewis Hamilton insists his relationship with Mercedes team-mate Nico Rosberg is good at the moment despite the German's dominance in 2016.
The Brit has claimed back-to-back world titles with the German manufacturer but has struggled to carry momentum through into this season.
Rosberg hit the ground running and boasts five race victories from the eight events, while Hamilton has claimed just one chequered flag.
The pair have known each other since they were 13 and competing in motor racing's junior series but their relationship hasn't always been strong. During the course of their time together with Mercedes their friendship has become extremely strained, however Hamilton insists they are currently getting on.
Hamilton said: "It's actually really good with Nico at the moment. Really, really good. Surprisingly. I would definitely not have expected it to be where it is.
"I guess it is probably with age. He's a family man. He's got a kid. He has probably grown in that process and I have grown and come of age. "The respect that we have always talked about is bigger than it has ever been.
"So now we generally just discuss things. Whether we're unhappy about something or not, we discuss it face to face. If I have a problem, I knock on his door and ask if I can speak to him privately.
We never address it publicly or in front of the team. So far, at least. "We say straight up, "Hey man, I wasn't cool with that". And he does that to me as often as I do to him.
"The other day, I was swimming in my pool – the building we live in in Monaco, there is a shared communal pool – and I guess he saw me from his apartment and came down and sat on the diving board and when I finished a few laps we sat and talked for 20 minutes or half an hour. In a relaxed state."
Leave a comment