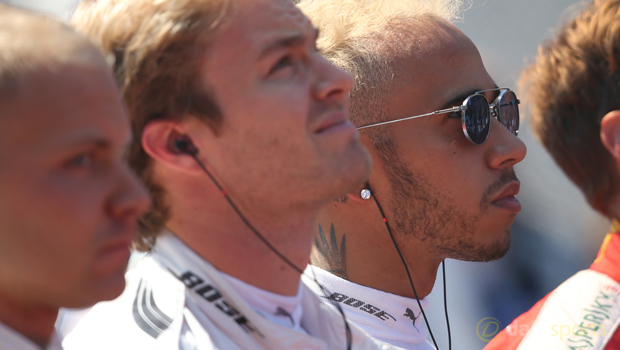 Lewis Hamilton has fuelled more tension in his relationship with Nico Rosberg by insisting his Mercedes team-mate "complains a lot".
The pair endured an often fraught relationship last season as Hamilton powered his way to a third world championship.
Rosberg has repeatedly suggested the British driver is too aggressive in his approach after some high-profile incidents on the track between the pair.
Hamilton's claim comes hot on the heels of a warning from Mercedes boss Toto Wolff that they will consider dropping one of their drivers if their poor relationship continues to undermine the team on race day.
Hamilton suggests their opposing attitudes are a by-product of different upbringings.
"You've seen he complains about a lot of things. But you kind of let it go over your head because that's just the way he is," he said.
"It's kind of the different background we come from, I guess."
It is not the first time Hamilton has referenced the fact that Rosberg grew up in Monaco, the son of former F1 champion Keke Rosberg, compared with much more modest childhood surroundings.
Rosberg felt particularly aggrieved this season having been overtaken by Hamilton at the Japanese and US Grands Prix, where the world champion used his track position to force his way past.
Hamilton says he is not out to make friends in racing and that any world champion will agree that holding the inside line is crucial.
"This is the one opportunity and you take it. That doesn't mean wiping someone out or cheating but you have to be fierce, strong and hard to as much of the limit as you can be," he added.
"And you can ask every world champion, if you're on the outside, you have to back off."
Rosberg, who has yet to win the world title, is 3.80 to win next year's F1 crown, with Hamilton priced at 1.60 to win a fourth drivers' title and Sebastian Vettel on offer at 4.33.
Leave a comment