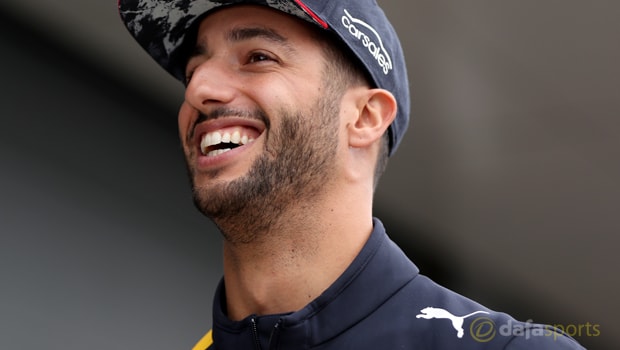 Daniel Ricciardo believes Red Bull's winter progress puts them in good shape heading into the season-opening Australian GP.
The Milton Keynes-outfit have struggled in recent years, with a combination of unreliability and aerodynamic performance issues preventing them from getting their campaigns off on the right track.
However, the signs are good heading into 2018 after their new RB14 produced some encouraging numbers during winter testing in Barcelona.
Mercedes and Ferrari also shone at the Circuit de Catalunya and it looks all set up for a thrilling opening weekend at Albert Park.
As an Australian, the pressure is on Ricciardo to perform but Red Bull's various problems have hampered him in recent years.
His best result in the race came in the form of a fourth-place finish back in 2016, although he did make the podium in 2014, only for a fuel infraction to lead to disqualification Following the positive signs in Barcelona, the 28-year-old appears in confident mood and is 8.00 to take the chequered flag, with team-mate Max Verstappen 7.00.
The fresh start in Australia can often help teams set the tone for their campaign and Ricciardo believes his team are well set to start the season with a bang.
"We had a good winter," he said.
"It's all there in front of us now. I think we're still the top three teams – Merc, Ferrari and us. I think we're still going to be leading the pack for now.
"So hopefully we'll be deep in that group and have a chance to stand up on the podium."
Leave a comment