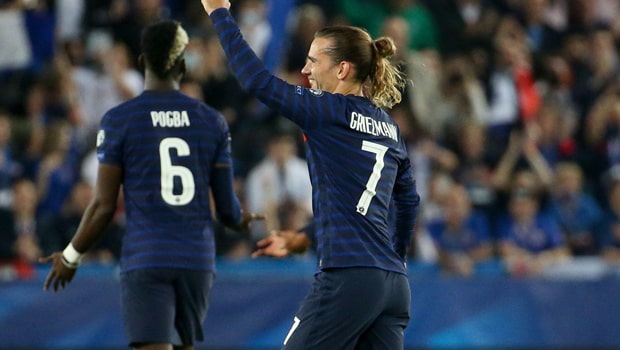 World champions were on Wednesday night held to a 1-1 against Finland in the FIFA World Cup qualifiers for the European continent.
The World Cup holders would have even been defeated, but all thanks to a scrappy Antoine Griezmann equaliser before holding on with 10 men to draw 1-1.
New Inter Milan striker, Edin Dzeko had given the visitors a first-half lead.
France restored parity after Dzeko's headed clearance ricocheted back off Griezmann and crossed the line.
France were reduced to ten men in the 51st-minute  after Sevilla defender Jules Kounde was given the marching order over a terrible tackle on Arsenal's Sead Kolasinac. Kounde was initially given a booking for his reckless tackle before it was upgraded to red on review.
This is a frustrating result for the world champions. It is also following their disappointing last-16 exit at Euro 2020 where they were sent packing by Switzerland on penalties.
But the joy is that France are still on course to top Group D. Once it becomes group winners, they automatically qualify for the next World Cup.
So far, Les Bleus have garnered eight points from four games. They are currently four points above second-placed Ukraine, which drew 2-2 in Kazakhstan on Wednesday. They will host France in Kiev at the weekend.
France started with Kylian Mbape, who ended up staying at Paris Saint-Germain despite Real Madrid's offensive to bring him to the Bernabeu while Griezmann made a late loan switch from Barcelona back to his old club Atletico Madrid. They both started from the bench due to the transfer speculations they faced before the window finally shut.
The last time they both started together for France was against Switzerland in the Europea Championship last 16.
Now that the window is closed, it is hoped that France will bounce back to winning ways and secure their world cup spot as early as possible.
Leave a comment