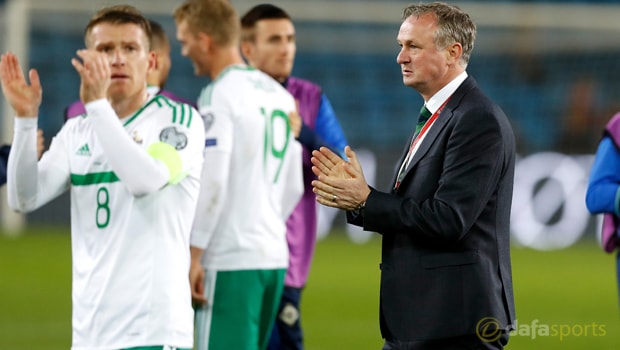 Northern Ireland boss Michael O'Neill insists he is not worried that his side are unlikely to be seeded for next month's World Cup qualifying play-offs.
The Green and White Army were already assured of their place in the play-offs ahead of their final group match against Norway on Sunday, but their 1-0 defeat in Oslo could well have ended their hopes of being seeded for the draw.
That means O'Neill's men could face the likes of Portugal or Italy for a place at next summer's finals in Russia, but the 48-year-old is unconcerned by that prospect, as he knows they will face a tough game whoever they are drawn against.
"We can't be greedy," O'Neill told Sky Sports. "Let's be honest, we are up against some great teams potentially in the play-offs and we will just have to deal with whatever draw comes.
"You might play a very good team if you were seeded as well."
O'Neill believes his side, who reached the knockout stages of Euro 2016, have exceeded expectations by making it through to the play-offs, as they bid to qualify for a first World Cup finals since 1986.
"It's unlikely we will be seeded but we still have an opportunity to go to Russia [for the 2018 World Cup]," he added.
"This team is punching above its weight massively, it has done for a considerable amount of time."
Leave a comment