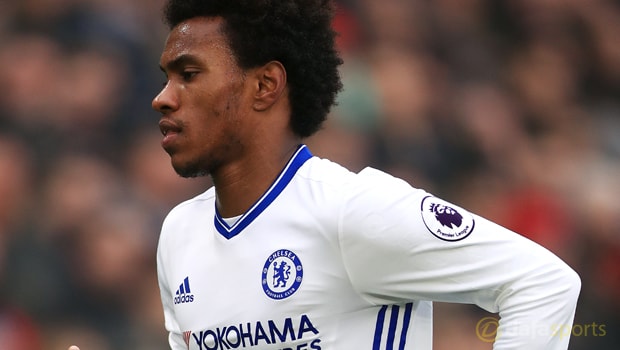 Chelsea midfielder Willian says there is much more freedom to play in the current Blues set-up under new manager Antonio Conte.
The Stamford Bridge side have stormed clear at the top of the Premier League standings courtesy of 11 straight wins.
They hold a six-point advantage on Liverpool with the halfway stage in the season almost upon them.
Chelsea cruised to the title two seasons ago under Jose Mourinho but suffered a spectacular collapse last term as Leicester enjoyed unlikely title glory.
Mourinho was sacked and Guus Hiddink took charge for the second half of last season as Chelsea finished 10th.
While the Brazilian was one of few Blues players to shine last season, Willian admits not much satisfaction derives from playing well in a struggling side.
"I was happy with my performances last season but it is difficult when the team doesn't go the same way," he says. "But I always try to do my best on the pitch.
Last season I was good but this season I want to do much better." Things took a while to lift off under Conte this season but Chelsea are now in full flight and well on their way to regaining the Premier League title.
Willian, 28, says there is genuine freedom at Chelsea now and that is benefitting everyone. "We have changed it a little bit," he explains.
"There's more freedom. I have more freedom to play. I can move inside, I can go to the left and to the right and I think it's much better.
The new formation helps players like me, helps Diego [Costa] and helps [Eden] Hazard in front. We can move around as we have that freedom."
Chelsea are 1.80 to win the title this season while the Blues are 6.50 to beat Bournemouth 2-0 at Stamford Bridge on Boxing Day.
Leave a comment