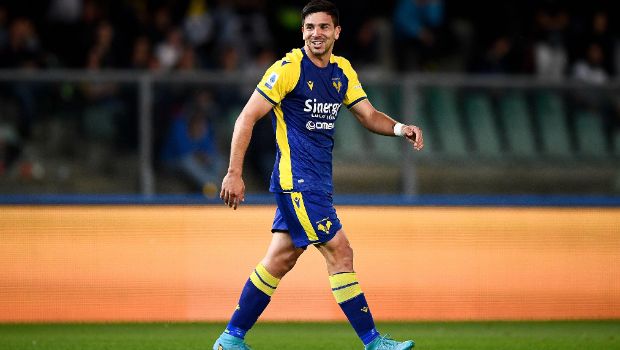 Facts have emerged after Napoli striker Giovanni Simeone broke into tears after scoring his debut Champions League goal.
Someone, the son of Argentina legend and Atletico Madrid manager, Diego Simeone, kissed a Champions League tattoo after scoring his first goal in the competition against Liverpool on Wednesday at the Diego Maradona Stadium.
Napoli ran riot with a top-class performance in the first half, smashing four goals past Liverpool.
The Serie A club opened the goals through Zielinski from the penalty spot.
Zambo Anguissa made it two. Simeone scored third, while Zielinski got a brace.
Liverpool reduced the deficit with Diaz's goal.
It was gathered that scoring in the Champions League fulfilled a childhood dream for Simeone.
Simeone, on loan at the Naples club from Hellas Verona, scored his first goal in Europe's elite competition minutes after making his debut at the Stadio Maradona. He had replaced injured Victor and found the net against the Premier League club almost with his first touch.
After realising that he had scored, the Argentine broke into tears and kissed a Champions League tattoo on his arm, fulfilling a dream he had since childhood.
Simeone, who got the tattoo against his father's will when he was 13, had, during an interview with the Guardian in 2021, said he would have kissed it after his first goal in the tournament.
Knowing fully well he was supposed to be 18 before making such a decision, Simeone pointed out that he was such a fan of the Champions League.
"My dad didn't want me to. And my mum said: 'Why?' I said: 'Because the day I play and get my first goal in it, I'm going to kiss the tattoo."
Before joining Napoli on loan with an obligation to buy, Simeone scored 17 goals in 35 Serie A appearances at the Stadio Bentegodi last summer.
He made his Napoli debut coming off the bench in the second half of a 0-0 draw against his former club Fiorentina on August 27. He has so far played for 17 minutes across two league appearances so far.
Leave a comment