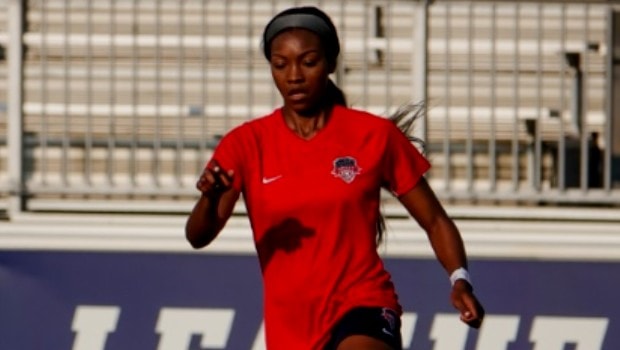 Cheyna Matthews, a well-known American football star, has announced that she will be taking a break from the game as she intends to plough more time into tending for the needs of her family.
The forward who pitches her tent with Washington Spirit made this shocking revelation on Instagram. The star who decided to take a paid leave away from her side admitted it was such a huge decision to make.
She said it was absolutely possible to love your job and at the same time, have your family at heart. She said this was especially true for her, a scenario which makes taking a break away from National Women's Soccer League (NWSL) such a tough decision to take. According to Matthews, that decision could well turn out to be the best decision for herself, club and family at the time.
The NWSL star who shares a son with her husband, NFL free agent Jordan Matthews maintains that maintaining the right balance between family and sports requires a great deal of sacrifices.
She reiterates that the balance between professional sports, marriage and motherhood needs a lot of sacrifices along the way, and this was hers. Matthews says she will only be back to the sport when she is ready to commit 100percent to the game.
'The balance between motherhood, marriage and professional sports sometimes require larger sacrifices along the way, and this is mine', she wrote.
The forward concluded her post which had a picture of her holding her 20-months old son, Josiah and signing a poster for a fan by expressing her gratitude t the Washington Spirit Organization, all of her fans and her teammates at the club.
In response to her announcement, fans of the star gathered to support her cause, thanking her for several contributions to the side. Some also acknowledged that she has been a source of huge inspiration to them and all those who supported Washington Spirit.
Most notably was Spirits owner, Baldwin who in an interview with Washington Post said it was interesting to see that the sport had athletes who were at the same time mothers.
Leave a comment