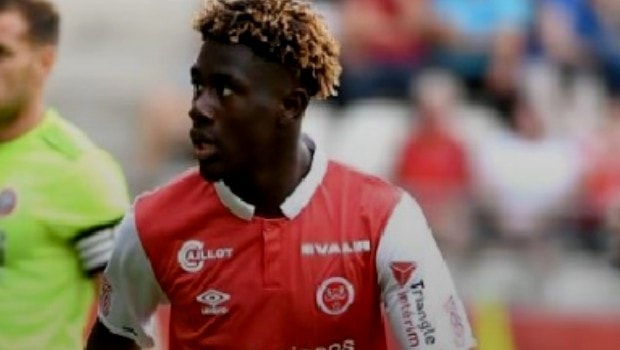 Stade de Reims has rewarded its promising young winger Nathanaël Mbuku with a contract extension that will see him stay with his boyhood till 2023.
This is a nice birthday gift for the young lad, which is coming two days after his 18th birthday. His performance has been commended, leading to the deal after making 11  appearances with three starts in the Ligue 1 Conforama this season
He will also be changing his jersey number from 33 to 21.
Mbuku began his move into the heart of the club hierarchy and fans when he made his debut on 10 August, and Reims defeated Marseille 2-0 on the opening day of the season when he was 17 years, four months and 25 days.
From there, he has not looked back and shown he mettle the French under 17 team in the FIFA World Cup held in Brazil. The young Les Blues finished third in the tournament while the young left-sided winger won the silver boot after scoring five goals scored in six games, which included a hat-trick against Australia.
Speaking on the contract extension, Reims President Jean-Pierre Caillot, expressed great satisfaction, saying he is convinced of the tremendous potential Mbuku has in store.
Speaking further on the emergence f the young player from the club's academy, he said that shows the growth of the Stade de Reims youth academy.
He added that the contract extension shows a continuation of the career path of a player who shined at the youth level and in France's youth teams.
Speaking on the signing, he said it was extremely competitive, knowing the attributes of the talented lad. This is because Mbuku, through his performance in Brazil and Ligue 1, attracted a lot of suitors, particularly from abroad, as well as many of his team-mates in the French U17 team.
The Reim Honch, therefore, said that the winger had made a lucid and ambitious choice, and the club also has a lot of faith.
Reim is part of the team slugging it out for European places ahead of next season's lucrative European club competition; the Champions League and Europa League.
They are tied on 41 points with Nice but have a better goal difference.
The extension of Mbuku's deal will boost his morale and encourage him to contribute to the club's goal of European football next season.
Leave a comment