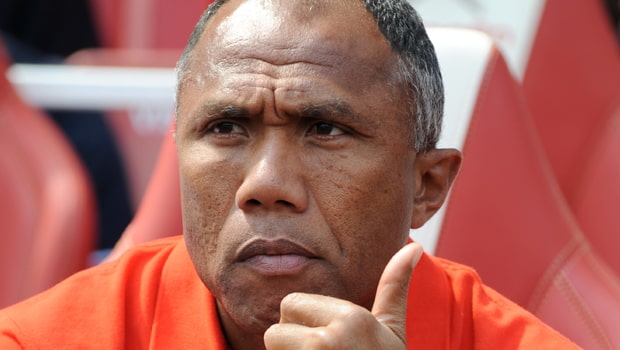 Toulouse FC has sacked its manager, Antoine Kombouaré, after being eliminated in the Coupe de France by amateur side, Saint-Pryvé-Saint-Hilaire.
The club has immediately replaced Kombouaré on interim basis Denis Zanko, the club's academy coach.
The Ligue one side made the announcement in a statement on its website.
Kombouaré, who had stints with PSG, Valenciennes, and Lens joined the side in mid-October 2019 as a replacement for Alain Casanova, but couldn't stop the team from suffering additional ten defeats, which is the worst in the club's history including Saturday's elimination by Saint-Pryvé-Saint-Hilaire in the Fourth Round of the Coupe de France.
Speaking at a press conference on Monday after the dismissal of Kombouaré, Toulouse President, Olivier Sadran revealed that Zanko would be in charged of the team till the end of the current campaign.
While noting that the club is in its worst situation since the takeover in 2001, Sadran said the results have been bad in recent weeks, and the choice of Zanko seems to the best and thanked him for taking up this challenge.
Sadran, who pointed out that the audit carried out in the 2017/2018 season wasn't right, said the club had entered into mediocrity for 4-5 years, which is not good.
While noting that the business solutions seem not to be working, the president acknowledged that with a limited budget, the club has a desire to produce more players.
He also blamed the club's misfortune on injuries, saying they are not explanations but observations.
Speaking on transfer, he said the club contacted Premier League champions, Manchester City, to get Erick Mombaerts, coach of Melbourne City FC, but did not succeed.
"We would have liked the project to succeed, but it did not succeed. Football has really changed. The pressure on the coaches is very strong. They come up with game plans and then get lost a bit as soon as they are under pressure. There is now no time to trust.
"Having changed a lot of tactical patterns over time has made players lose confidence. Times have changed, and we haven't been able to adapt," he added.
Toulouse FC will return to action on the domestic front when they welcome 15th-placed Stade Brestois in Week 20 action on Saturday. They are occupying the last spot in the Ligue 1 table, level on points with Nîmes.
Toulouse are backed at 2.23 to defeat Brestois, whie Stade Brestois are pegged at 3.29.
Leave a comment