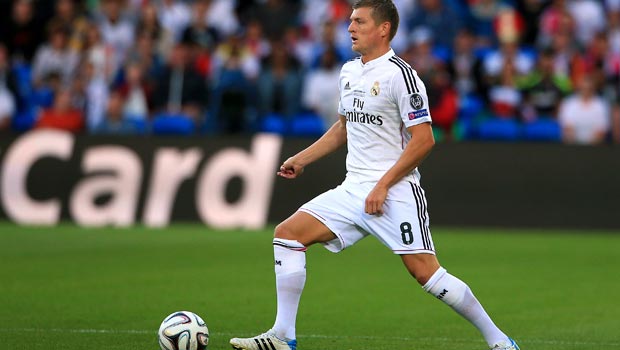 Toni Kroos is delighted with his summer move to Real Madrid and expects different challenges in La Liga to those he faces in the Bundesliga.
Kroos left Bayern Munich for the Bernabeu this summer after declining the offer a new deal, as the German side decided to sell the midfielder rather than allow him to leave at the end of the 2014-15 campaign as a free agent.
There had been speculation of a fall-out with Bayern coach Pep Guardiola but Kroos insists those rumours are wide of the mark.
Kroos, 24, also had offers from Manchester United and Chelsea but he has no regrets over his decision to join Los Blancos, who are 4.50 to win the Champions League and 2.10 to claim the La Liga crown.
He said: "I made the right decision and I'm 100% satisfied at Real.
"My departure from Bayern had nothing to do with Pep [Guardiola]. We see football the same way. He refined my style of play and developed my skills.
"We're talking about the two biggest footballing institutions in the world, although Real have a higher profile internationally than Bayern.
"It's amazing to think that 20,000 people came to see me unveiled when I had yet to play so much as a second. That would be unthinkable in Germany. Spanish fans get more into football and are more emotional about it."
Kroos feels Spanish league football is more technical than the "aggressive" Bundesliga, but he believes he is more suited to the style of play in La Liga.
He added: "The Bundesliga is more aggressive. In Spain, on the other hand, the technical level is incredible: even the smaller teams try to play you off the park. Still, I think that will work in my favour."
Leave a comment