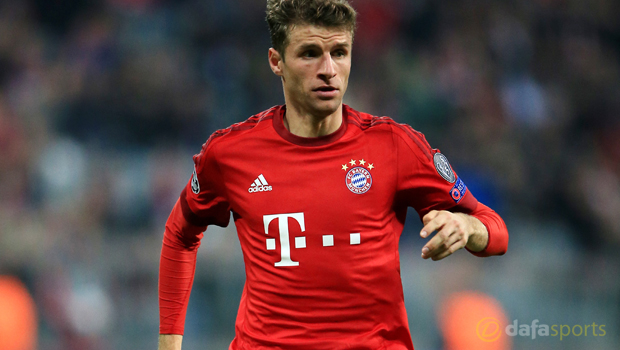 Thomas Muller has ruled out following Bayern Munich manager Pep Guardiola to England in the summer.
The Germany international says the Premier League has a lot to offer but that he remains committed to Bayern.
Guardiola last week announced that he will leave the Bundesliga champions in the summer, with England his preferred destination for his next move.
Muller, 26, has been at Bayern his entire career and he says there is no reason for him to leave now.
"The environment [at Bayern], the infrastructure, the history and the culture in recent years are incentives that not every club, or every city, has to offer," Muller said.
"Of course, England offers a lot at the moment, but Bayern does not have to hide."
Muller signed a contract extension that ties him to Bayern until 2021 just last month and, despite sensational form that has seen him score 14 goals in 17 league appearances this season, he says he has plenty room for improvement.
"Of course I am not satisfied with my own performances and goals, I make no secret of that," he said.
"We want to play a good second half of the season and challenge for titles. Then we will see what's left."
Guardiola will be desperate to land the Champions League to cement his tenure at the Allianz Arena and Muller says he is ready to do whatever is required to help Bayern achieve their goals.
"I want to help the team. I try to be a player who is there for the team, even off the pitch. You always have to find the right mix of being serious and relaxed."
Bayern are 2.10 to win their Champions League last-16 first leg match against Juventus in Turin on February 23rd while they are 3.50 to be crowned European champions this season.
Leave a comment