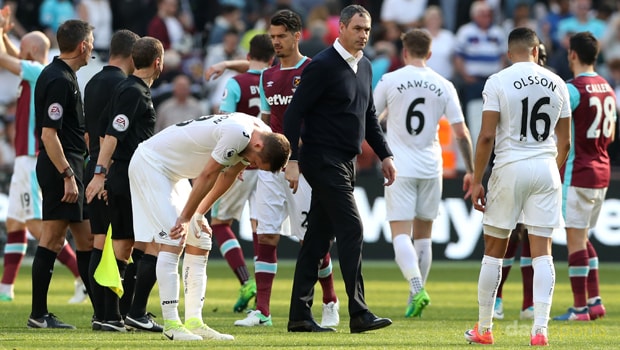 Swansea coach Paul Clement is confident his squad have enough talent to avoid relegation despite seeing his side lose 1-0 to West Ham.
The Swans, 1.91 to be relegated, have not won since March 4 when they beat Burnley 3-2 at home.
They have since lost four of their last five matches and Clement's men remain 18th in the Premier League league table.
Clement's side are just two points away from safety but their away form continues to haunt them.
The Welsh outfit have lost five games in a row on their travels but Clement insists they still believe they can survive.
He told reporters: "We all have to stay together in this, it is much easier if we all stick together and it will make it a little bit easier.
"We have a big challenge ahead, six games to go, but we still have to have belief. And we will continue to work hard and give our best in every game.
"At this time of the season, you just want to get a result, particularly after out last run of games, it was very important to try and get a result today.
"We did not and I do not think we deserved to based on our performance over the 90 minutes. In the first half, there was a lot of anxiety and fear in our play.
"Overall it was a poor game, anxious from both teams and it has obviously worked in West Ham's favour as they have got a massive three points today."
Swansea now have just six games remaining to save their season and they will take on Watford, Stoke, Manchester United, Everton, Sunderland and West Brom.
Leave a comment