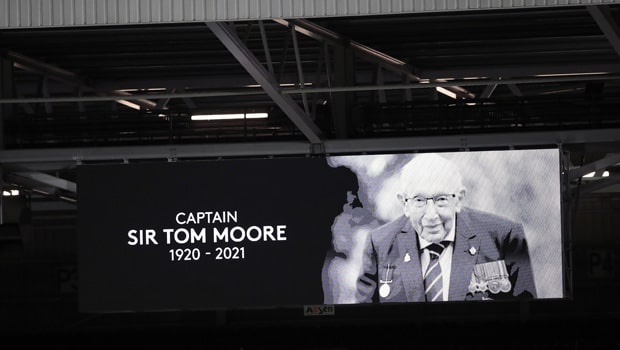 Fans, media and even former opponents in the sporting world took to social media Tuesday to express their thoughts and pay tribute to Sir Tom Moore who passed away at age 100. Often referred to as 'the man who made a difference,' Moore's impact went well beyond the pitch.
"It is with great sadness that we announce the death of our dear father, Captain Sir Tom Moore," the family said in an official statement.
In July of 2020, Moore became the first captain and member of the Football Association and the Lionhearts unit of England National Football Team. Former England captain David Beckham presented Moore with the award.
Moore was dubbed the 'Inspiration of the Year' by British GQ magazine in November 2020, largely paying tribute to him raising the greatest amount of money in an individual charity walk.
He ended up raising close to £33 million between April 2020 and his 100th birthday for the NHS.
"The last year of our father's life was nothing short of remarkable," Moore's family added. "He was rejuvenated and experienced things he'd only ever dreamed of. Whilst he'd been in so many hearts for just a short time, he was an incredible father and grandfather, and he will stay alive in our hearts forever."
His family confirmed this week the 100-year-old had been struggling with pneumonia over the last 'few weeks' before testing positive for Covid-19 about one week back.
Wembley Stadium was lit up Tuesday in tribute for Moore as England manager Gareth Southgate commended him for uniting the country and world 'in a way that few ever could.'
"Captain Sir Tom Moore demonstrated the very best of England during an extremely difficult time for the nation," Southgate said in an official statement on social media. "It was a wonderful moment to see him chosen to lead England's Lionhearts squad celebrating 23 individuals who had done so much to help others this past year – one of many deserved honors that came his way. He will be missed, but we will remember him."
Leave a comment