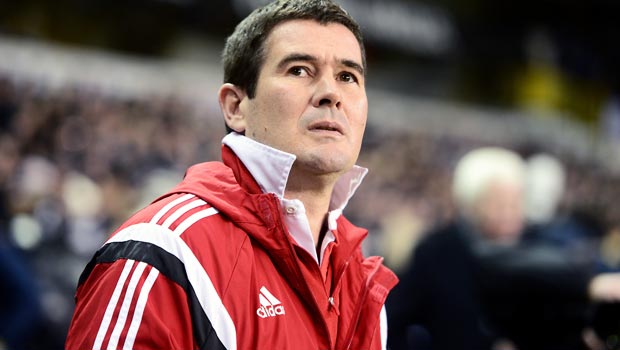 Sheffield United boss Nigel Clough says a weekend of FA Cup upsets has strengthened his players' belief that they can dump Tottenham out of the Capital One Cup.
The Blades welcome Spurs to Bramall Lane for the second leg of their League Cup semi-final on Wednesday, with Spurs 1-0 up from the first game at White Hart Lane.
The north Londoners are the favourites to win Wednesday night's game at 1.95, but United are brimming with confidence after giving Tottenham a scare in their meeting last week.
Clough's men have also been lifted by the FA Cup results on Saturday, with League One rivals Bradford City knocking Chelsea out of the competition, while Manchester City were sent packing by Middlesbrough.
Spurs were also eliminated from the FA Cup on Saturday as they bowed out to Premier League Leicester, leaving just the League Cup and Europa League as their most realistic chances of silverware this season.
Clough is eager to make sure it is just Europe Tottenham are left focusing on after Wednesday night as Sheffield United look to eliminate a Premier League side from the Capital One Cup for the third time this season.
The former Liverpool and Nottingham Forest striker is desperate to for his side to reach a Wembley final after being beaten in the semi-finals of the FA Cup last term.
However, he fears Tottenham will be better prepared for Wednesday's match after the first meeting in London.
"I read some quotes from Bradford players saying the Friday night game, where Cambridge drew 0-0 at home against Manchester United, gave them inspiration and belief," Clough said.
"We are going to try to use the weekend in the same sort of way.
"But the other side of it is that it will have put Spurs on high alert – if the first leg didn't already – that if you are not careful, lower-league teams can cause you a problem.
"I think they may be a bit more relaxed at Bramall Lane, because they have a one-goal lead and the onus is very much on us now to go and create.
"It will be an unbelievable achievement for the club, as a League One club, to get to the final."
Sheffield United are 3.95 to win the game in the 90-minute match market.
Leave a comment