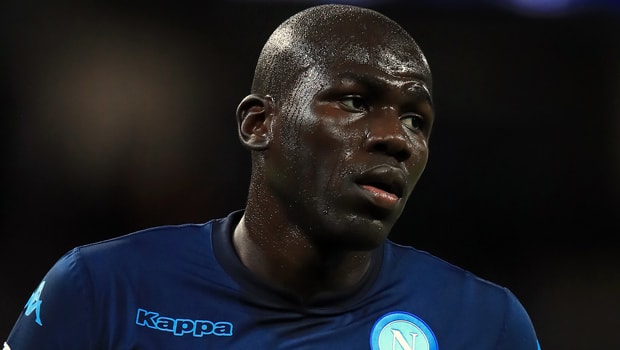 Napoli defender, Kalidou Koulibaly, has lauded his teammate, Dries Mertens, for writing his name in the club's history after overtaking Marek Hamsik to become the club's all-time top scorer with 122 goals.
Mertens broke the Slovakian record on Saturday night when he scored the only goal for his team in the 1-1 draw against Inter Milan at the Sao Paolo Stadium in the semi-final of the Coppa Italia. Napoli won the ties 2-1 on aggregate, having won the first leg 1-0 at the San Siro.
Speaking with Sky Sport Italia, the Senegalese noted that the Belgian became a real killer upfront, after being allowed to play in the make-shift role for some time when the club did not have a striker under Maurizio Sarri. The winger turned striker utilized the opportunity, and he continued to bang in the goals.
Koulibaly said he had known Mertens from the first day at the club because he used to come to pick him up from home to training at Castel Volturno.
Due to their closeness, he said they had had so many laughs in those journeys between the city of Naples and the training ground. He also said Mertens was much like the club's former striker, Gonzalo Higuain, who knows how to do everything. While stating that he is a significant player for the team, the Senegalese central defender said he is proud to play alongside him.
He, therefore, wished the Belgian, who could leave the club on a free transfer in the summer, all the best in the world.
In his first three seasons as a winger, Mertens scored 34 competitive goals for Napoli. But that changed when netted the same number of goals 34 in the 2016-17 campaign.
With Napoli in the final of the Coppa Italia, scheduled for June 17 against Juventus, Genarro Gatusso's men will be hoping to get another win over the Bianconeri and secure at least a Europa League ticket, as they are currently languishing in the 6th position.
Leave a comment