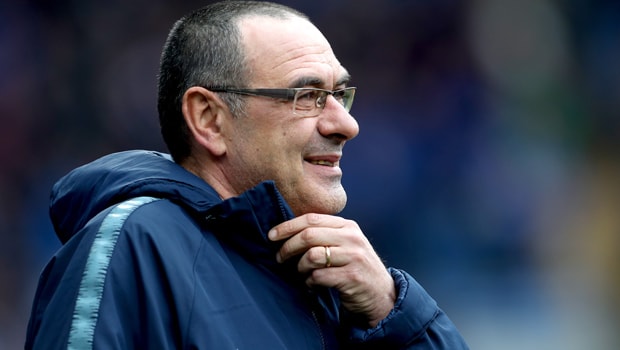 Juventus manager Maurizio Sarri has said that his team's current playing schedule can be an advantage.
Juventus is still competing for the Serie A title, Coppa Italia and the Champions League. The three tournaments will now hold at separate intervals as football actions resume gradually after coronavirus hiatus.
The Bianconerri will restart their season on Friday in the second leg of their Coppa Italia semi-final clash against AC Milan before playing their first Serie A game in the following weekend. The Champions League is scheduled to resume in two months after the winners of the domestic cups and leagues would have been decided. The only exception right now is the French Ligue 1, as the governing body had already announced PSG as the winner.
A decision is yet to be reached on how they will go about other domestic cup competitions as the French government had already banned sporting action till September.
Speaking with Sky Sport Italia, the Italian tactician said Juventus is lucky to play for three competitions separately. This, he said, will allow the club to focus their motivation on one objective at a time.
Speaking ahead of the Milan clash, he said all their games against the Rossoneri have been difficult this season, adding that they always give his team a difficult game, adding that the first leg result is not a guarantee of progressing to the final of the Coppa Italia.
He further stated that since they are just resuming action, Milan will return with all freshness and start with a competitive starting line up as they did in the first leg.
Although the first leg ended 1-1 in San Siro, despite having an away goal, the Bianconeri manager believes that the game is still wide open, not looking at the team's away goal.
Meanwhile, there will be no extra-time in Coppa finals. Ties will now go into penalties straight.
According to the announcement made by the governing body, Lega Serie A made some adjustments to the rules, and it only applies for just this season.
This means the second legs of the semi-finals and the Final will be settled in normal time or by a penalty shootout.
Leave a comment