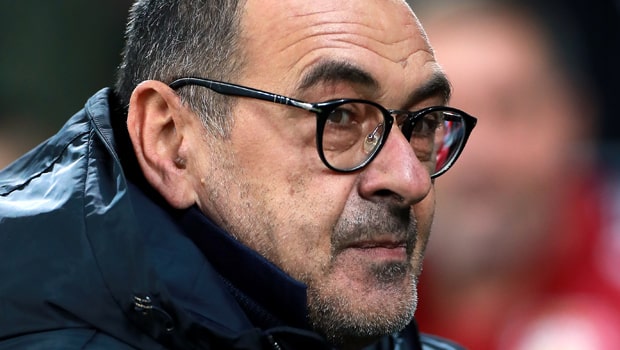 Maurizio Sarri reiterates that 'almost' securing the ninth consecutive Serie A title for Juventus is 'meaningless' and tries to focus on the trip to Udinese.
The Bianconeri are almost there for the Scudetto, as if Inter don't beat Fiorentina tonight, they can mathematically clinch the title with a win on Thursday at Udinese.
"I am a man of sport, which means that 'almost' is meaningless," said the coach in his press conference.
"We know that we need to pick up four points, which is difficult at the moment. We've got to focus on one game at a time, think of Udinese, then of Sampdoria, stay in the moment and continue fully aware this is a tough period for everyone.
"Why am I still criticised? Evidently I get on someone's nerves! I'm not particularly interested, I know the difficulties we face daily and I think we've got more data on our side than those who express opinions."
Cristiano Ronaldo's brace against Lazio allowed him to catch Ciro Immobile at the top of the Capocannoniere charts on 30 goals each, so he will presumably not want to rest in the remaining rounds.
"I spoke to him 10 minutes ago, and he said he's in great shape. This is part of his strength, the ability to quickly recover both physical and emotional energy, setting his sights immediately on the next target. It allows him to push beyond fatigue.
"It's evident that we can play a lot better and have ample margin for improvement. I don't see this difficulty in having top level players like Ronaldo and Paulo Dybala sharing the field, as they scored 51 goals between them."
Leonardo Bonucci is suspended, with Giorgio Chiellini still not fully fit, so Daniele Rugani is expected to get a rare start in defence.
"Rugani would've deserved to play more at times this season and has been unfairly criticised. He did well with Milan for an hour, then crumbled at the same time as everyone else. We needed Bonucci's experience, so it's our fault he hasn't played as much.
"Udinese are a very physical team and they're in good shape at the moment, so it's going to be a difficult match and we need to be on our toes."
As for the midfield, Adrien Rabiot is increasingly becoming important to the Juve side, showing some of what he was capable of at PSG.
"Rabiot is a player with quality outside the norm. After some big changes in his career, he is starting to emerge, but it's the same path many foreign players have gone through in Italy. I can see his character now in the way he plays," added Sarri.
"Miralem Pjanic is fine, we just sometimes make different choices due to the characteristics of players and the matches we are going into."
Leave a comment