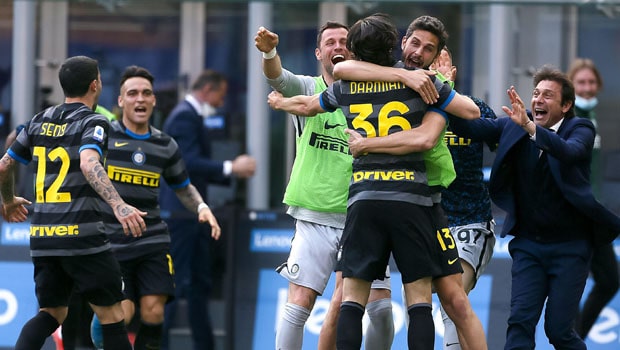 A nine-year run for Juventus ends this weekend as Inter Milan clinched their first Serie A title in 11 years. Antonio Conte's club are now the new Italian champions.
A 2-0 win over Crotone on Saturday, along with Atalanta's 1-1 draw vs Sassuolo on Sunday clinched the title. They have a 13-point cushion in the standings with four matches to spare.
"We are succeeding in toppling a kingdom that had lasted for nine years," Conte said.
Cone took over at Intern in May 2019 just a couple years after he won the Premier League title with Chelsea in 2017.
"It's a new planet for me," Conte added. "It wasn't easy, it's not easy now and it won't be easy in the future because there are a lot of dynamics in play, and people look to create negativity around Inter whenever the smallest opportunity arises. More positivity when we're spoken about would be nice."
Saturday's win over Crotone marked the side's 14th clean sheet of the season.
"We've become more compact, we look to help one another as teammates, we've worked to become a winning group and results have improved," Inter defender Stefan de Vrij said.
Conte celebrated his fourth Serie A title of his career as a coach; his previous three came with Juventus 2011-2014.
"It wasn't easy to win over all the fans and I understand that, but I'm convinced that I've always given my all for the teams that I coach," Conte said. "I got involved to give my best and I'm satisfied because we're doing something extraordinary."
Inter Milan overtook AC Milan for the No. 1 spot in the Serie A table on February 14 and haven't looked back.
Leave a comment