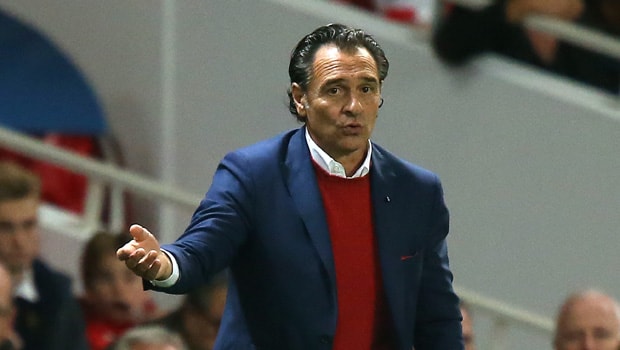 Fiorentina coach Cesare Prandelli urges his lads to put away every opportunity they get against Juventus ahead of their Serie A meeting tonight.
The former Italy coach wants to see the conviction in his team's attack.
Fiorentina currently has 11 points from 13 Serie A games, which leaves them 16th on the log after back to back 1-1 draws against Sassuolo and Hellas Verona.
Although they are yet to record an away win this season, Prandelli is confident of his side, adding that a new mentality exists in the squad.
While noting that beating a great team like Juve requires them to pay great attention to the details, he said what matters is that chances gotten against them must be utilized.
Speaking at a press conference, Prandelli hopes that his lads start with such a mentality that could make them produce an excellent game.
This statement is coming on the back of their barren run away in their last four games where they have been unable to record a single goal. That's not stopping Prandelli from talking confidently, using the performances against Sassuolo and Hellas Verona at the Artemio Franchi as a yardstick.
While noting that the right mentality and desire are being seen in the last few matches, Prandelli expects his side to keep both when they travel to the Allianz Stadium tonight.
They are coming up against a Juve side that recently dispatched four goals past Parma – in a match described as their best of the season so far in the domestic league.
Speaking of his Juve counterpart, Andrea Pirlo, Prandelli noted that the world cup winner does not have an easy job with the Bianconeri as he has to reshape the squad to be more competitive.
He noted that Juve, which didn't win the last Scudetto unconvincingly, remains a strong side, and he expressed his worry about their attackers.
Cristiano Ronaldo and Alvaro Morata have partnered to score over 25 goals already this season. The duo combined effectively against Parma as they scored in the game with precision.
Notwithstanding their quality, Prandelli expects Fiorentina to use the match to measure their development.
Leave a comment