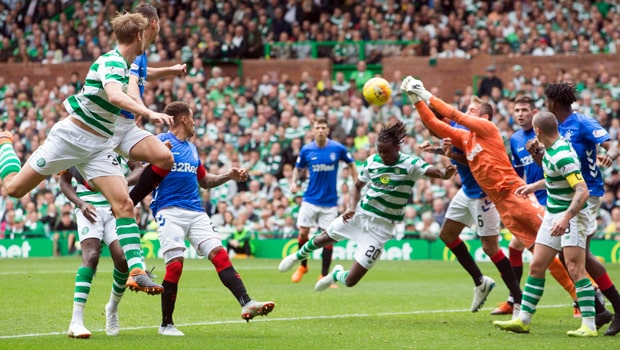 Celtic assistant manager Chris Davies has admitted he was very surprised Allan McGregor did not earn any punishment for kicking out at Kristoffer Ajer during Sunday's 1-0 win over Rangers.
The goalkeeper aimed his studs in the direction of Ajer following a corner, something that was missed by match referee Willie Collum and his team of officials.
An SFA judicial panel of former referees reviewed the incident on Monday and chose not to take any further action against the Rangers goalkeeper.
Light Blues boss Steven Gerrard admitted after the game that the veteran was lucky not to have been sent off, a view shared almost unanimously be television pundits across the board.
Davies cannot understand how McGregor has escaped punishment, though he suggests Ajer's well-being was the main concern for Celtic.
He did admit that it was hard to fathom, given that even Gerrard appeared braced for a ban.
"I was surprised," Davies said.
"From my point of view, I was just pleased that our player wasn't injured in the game. It's one of those and it was discussed a lot afterwards. Everybody said quite clearly what they thought about the incident."
Davies said the physical nature of the Old Firm derby, and football in general, is something that must be protected. He suggested McGregor's behaviour was clearly something beyond that.
"Generally, the aggression, physicality and intensity of the British game – and Scotland in particular – is one of its greatest assets," he added.
"But this incident wasn't natural aggression or competing in that way. This was something isolated and different to that.
"Physicality is part of football and we would be the first people to say we want that to remain but this is a different incident we are discussing."
Leave a comment