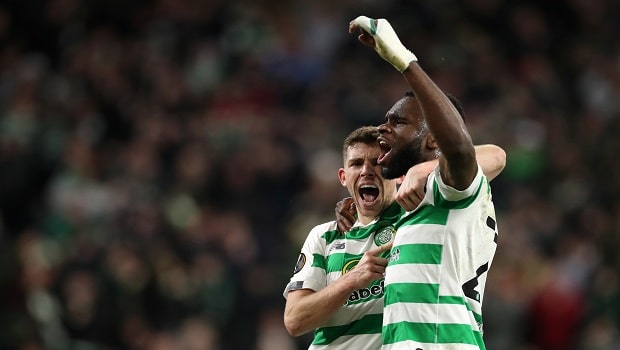 Scottish Premiership leading, Dafabet sponsored Glasgow Celtic went into the home game against 10th placed Hamilton eyeing an easy three points. Perhaps the confidence was a bit too high, although after 10 game winning streak in all competitions some overconfidence is expected.
Hamilton stood firm against the overpowering home team and didn't seem to bend. The fighting spirit of the minnows almost bore fruit, but Celtic scrambled ahead in the closing minutes and took the 2-1 victory, keeping them on top of the league – this time on their own.
Celtic came into the match as is expected and managed to hold the ball confidently, without letting Hamilton cause any issues in the defensive end. It all looked like fun and games when sensational Ryan Christie sent the home team 1-0 ahead already on the 13th minute, with his ninth goal of the season.
Christie blasted in a short-range juicy rebound left by Hamilton keeper Luke Southwood. Many expected Celtic to breeze through from then on, but Hamilton had other plans. While constantly on the back foot, the visitors tackled hard but fair, kept their composure holding Celtic from any real chances and hitting back every time the opportunity arose. Remarkably, the shots on goal were even 5-5 despite Celtic controlling the ball for 67% of the game.
Celtic kept piling on the pressure, hitting the woodwork and constantly causing issues to the Hamilton defense. Fraser Forster in the other end also had to make a brilliant save on a close-range header. The resilience of Hamilton seemed to pay off big time as after an offensive end long-throw ended at the foot of Hamilton's Marios Ogboe inside the box and the Nigerian pulled the visitors even on 90th minute.
But if Hamilton was resilient, Celtic was nothing less. Pushing hard for the winning goal, it was only fitting that it was the left foot of the Celtic's 34-old workhorse and captain Scott Brown that sent the home fans into the raptures on 92nd minute. It was as close a call as ever, but with the win Celtic move on top of Scottish Premiership alone, as the rivals Glasgow Rangers drew on the road with the challenging 3rd placed Aberdeen.
Don't miss out on Dafabet's Celtic FC Prediction Challenge, where you can win weekly free bets! Next up in Scottish Premiership for Celtic is Edinburgh's finest, Hibernian at home on 15th December. Meanwhile, the Old Firm returns with a Scottish Cup derby between Celtic and Rangers on the 8th of December, setting the pace for the rivalry for the rest of the season.
Dafabet offers
Rangers FC vs Celtic (1×2): 3.00 – 3.30 – 2.26
Leave a comment