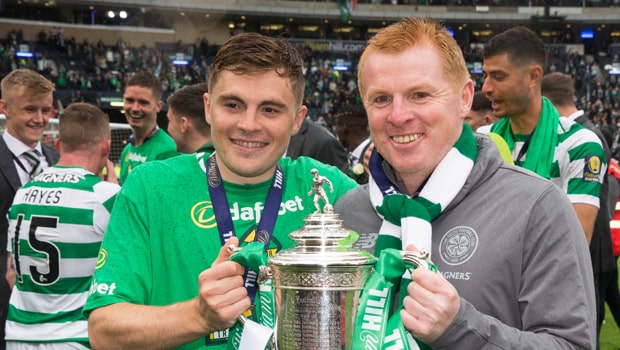 Celtic boss Neil Lennon was full of praise for his team after they made history after claiming treble Treble glory following their Scottish FA Cup final win over Hearts on Saturday.
Hearts took the lead at the start of the second half thanks to Ryan Edwards' cool finish but their advantage only lasted 10 minutes.
Celtic striker Odsonne Edouard scored from the spot in the 62nd minute before the Frenchman then added his second with eight minutes to go, which was enough to seal the win.
Saturday's victory was Celtic's third Scottish Cup success in a row, while they have now won nine consecutive domestic trophies.
Lennon was informed after the full-time whistle that the board want him to stay on for a second permanent spell and he paid tribute to the squad after lifting the trophy.
He told reporters: "It was probably one of the best days of my life.
"It is hard to quantify what this team has done and how difficult this achievement is to pull off. You'll never see it again, so you can see the emotion and tension in the game. They had to stretch themselves to the limits.
"First half we were flat and pedestrian, playing it backwards. I did say to them that Hearts may score but we will score. Don't panic – and that is the way it panned out.
"It almost gave them a jag and then the urgency and the response from them was fantastic – and they deserved to win it.
That's 27 cup games since Brendan came in, it is a remarkable feat and I can't speak highly enough of them.
They are immortal now. In my career, winning the Treble was the Holy Grail. They've now done it three years consecutively. It's unbelievable."
Leave a comment