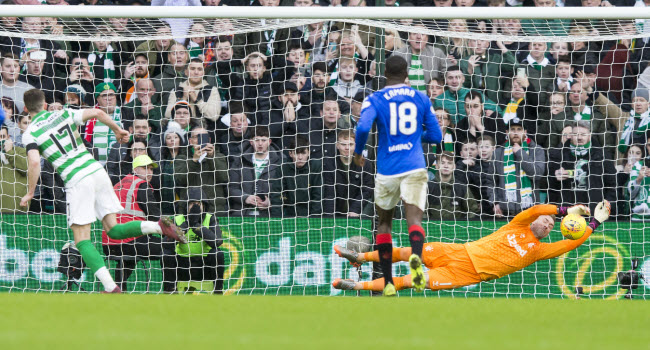 Glasgow Celtic traveled to St. Mirren for their Boxing Day fixture, which was the last match before facing rivals Rangers on Sunday 29th of December.
St. Mirren had been in decent form as of late, not losing in three games and looking to push up from their 10th place in Scottish Premiership. If it would've been due to their effort, St. Mirren should've gotten something out of the game, but Celtic were mean visitors and proved their superiority by finishing off the game when they got the chance.
In the end, St. Mirren only got the consolidation goal and Celtic banged in two in one prolific 10 minute stretch, which was enough for visitors 1-2 victory and to retain their 5-point lead on top of the Premiership.
The home team went all-in from the beginning and were relentless in the pressure. While Celtic was the more controlling side, the effort of the home team was admirable and in another day or against a weaker opponent they would've prevailed.
The scoring chances were few and far between and the teams seemed deadlocked for some time. But then the Celtic struck. Odsonne Edouard made one of his trademark runs to a through ball sent from the midfield and sent the ball into the box.
Despite having a chance to clear it off, St.Mirren's defense and the goalkeeper hesitated and Callum McGregor pounced at a chance, first hitting the post but following through to net the rebound. The home team looked to retaliate and put some pressure on Celtic's defense, but their efforts came undone only 10 minutes later when the visitors hit back on a counter-attack.
Odsonne Edouard was once again let loose on the left flank and he released a perfect pass into the path of James Forrest, who coolly rounded the keeper and took Celtic 0-2 up on 32nd minute.
St. Mirren was relentless in chasing the lead, but Celtic put on a brilliant defensive display to keep their opponents at bay. The visitors took their chances in the offense, but St. Mirren keeper Vaclac Hladky made some excellent saves to keep the numbers close.
The consolation goal came just before the final whistle, with Cameron MacPherson's long-range free kick taking Celtic keeper Fraser Forster by surprise. St.Mirren receives an A+ for the effort, but against Celtic it was not meant to be.
Celtic will face their local rivals Rangers on Sunday 29th of December in the third Old Firm derby of the season. Previously Celtic took the spoils at Rangers 0-2 in Scottish Premiership fixture and also won the Scottish League Cup over their rivals 0-1. Don't miss out on Dafabet's Celtic FC Prediction challenge to win weekly free bets!
Dafabet offers
Celtic vs Rangers (1×2): 2.09 – 3.15 – 3.50
Leave a comment