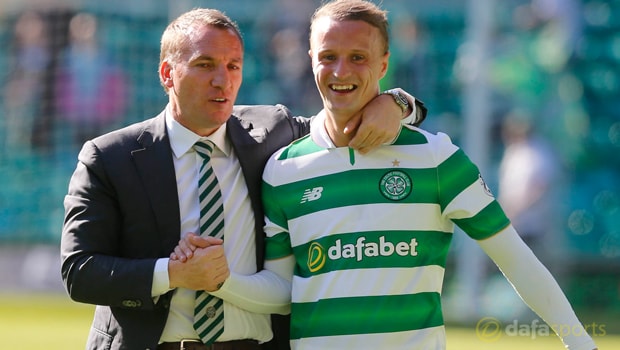 Celtic striker Leigh Griffiths has thanked manager Brendan Rodgers for helping him improve his fitness in the last few months.
The Scotland international has continued to show his class for the Hoops, helping them remain unbeaten domestically last season with the run continuing this term.
Celtic won the domestic treble under Rodgers but the former Liverpool coach continues to push his players in training.
The arrival of Odsonne Edouard and the form of Moussa Dembele has put more pressure on Griffiths but he continues to work on his fitness at Lennoxtown.
He scored 12 goals in 23 league appearances last term, while the former Wolves man has already scored three in seven this year.
Griffiths believes his work with Rodgers has helped him kick on to the next level. He told the Herald: "It's down to hard work.
There were a lot of times last season where I felt down on myself by not playing and Moussa being there and I was injured. It was frustrating.
"I was working hard behind the scenes, every day on my rehab to keep myself fit. I'm working every day with the manager at Celtic and it's paying off.
"I'm lasting 90 minutes now when before I'd only get 60. Hopefully that's my calf injury problems behind me. I'm still wary of it but I just want to get back through it and help the team as much as I can.
"Before it was about trying to score myself. I look at the bigger picture now. It's not just about yourself, you need to help the team.
"If I can make up play and have a helping hand in getting the team goals then that's what it's all about. We need to push in the one direction."
Leave a comment